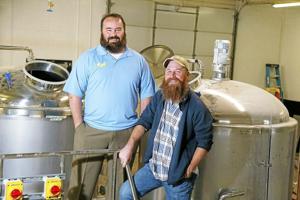 Tony Peck and Mason Beecroft, founders of Dead Armadillo, will open their new brewery at 1004 E. Fourth St. soon. TOM GILBERT/Tulsa World
When Tony Peck started brewing beer at his home nine years ago, he never dreamed the hobby would turn into a business.
Now Peck and fellow Dead Armadillo founder Mason Beecroft are weeks away from opening their own brewery in downtown Tulsa.
And they literally can't keep up with requests from festivals and other events that want them to share their beer with the growing Oklahoma craft beer fan base.
Dead Armadillo will be at The Hop Jam music and beer festival on May 17, along with 13 other Oklahoma breweries and 16 U.S. and international breweries.
It's the second year for the event, and the beer offerings have grown considerably, just like the craft beer industry itself.
Data on craft beer growth showed that in 2014, craft brewers reached a double-digit (11 percent) volume share of the marketplace for the first time, according to the Brewers Association, the trade association representing small and independent American craft brewers.
And the number of operating breweries in the U.S. in 2014 grew 19 percent, totaling 3,464 breweries, the group reported.
Many of these brewers started out just like Peck and Beecroft, with a love of good beer and the talent to brew it.
They are putting the finishing touches on their 7,000-square-foot brewery at Fourth Street and Madison Avenue and hope to open by early June, offering low-point beer first with anticipation of brewing high-point beer by the first of August.
"We have put a lot of work into it. This is a home brewer's dream," Peck said. "We love craft beer, and I love the brewing process. It is amazing how far we have come from what started as just a hobby. I was just intending to brew my own beer. Now, I love sharing it with people."
Beecroft, the brewmaster for Dead Armadillo, was a Lutheran pastor for 11 years and learned how to brew beer while studying historical theology at Dallas Theological Seminary. He was the pastor at the church Peck attended and shared his knowledge of beer making during vacation Bible school sessions on the "Christian Art of Brewing Beer."
Beecroft decided to make a career change in 2011, and the men started talking about founding a brewery. After getting investors, they launched in 2013 during the height of the craft beer movement in Oklahoma.
Their story is like many other craft brewers who started beer making as a hobby, and the hobby turned into a business.
"So many little festivals and things call us now that we have to turn people down. It is just us right now, and we just can't make it to everything," Peck said.
They are looking forward to The Hop Jam, however, which follows Tulsa Craft Beer Week and the Oklahoma Craft Beer Festival.
At The Hop Jam, Dead Armadillo offerings include its Amber Ale and Dead Ball Hooligan, an English bitter. They will also have an IPA, which is the first beer they want to release once they are brewing in their building, as well as a couple of specialty beers, Peck said.
Since the last The Hop Jam, a new craft beer advocacy group has been founded by Kevin Douglas Hall and has taken up the charge to make changes to the beer laws in the state. Hall is the president of the League of Oklahomans for Change in Alcohol Laws (LOCAL).
In a short period of time, the state's beer industry has definitely had a growth spurt, Hall said.
Iron Monk, 405 and Elk Valley are all new breweries that launched in the past year, Hall said.
"I personally believe the industry is growing and the excitement about craft beer is growing, as well," Hall said. "And I think it is phenomenal."
Festivals such as The Hop Jam help showcase the brewers and also the communities that host them, Hall said.
"People are coming to the festival to try the beers and hear the music, but they are also spending time in Tulsa and seeing what there is to offer. There are a lot people who are benefiting from that," Hall said. "And that is one of the benefits of the beer industry. It boosts tourism."
---
Brewers attending The Hop Jam
Here is the list of brewers that are scheduled to attend this year's beer and music festival.
Anthem Brewing

Battered Boar Brewing

Black Mesa Brewing

Choc Beer

Coop Ale Works

Dead Armadillo Craft Brewing

Elk Valley Brewing

Hanson Brothers Beer

Iron Monk Brewery

Marshall Brewing

Mustang Brewing

Prairie Artisan Ales

Roughtail Brewing

The Willows Family Ales
Abita Beer (Louisiana)

Big Sky Brewing (Montana)

Boulevard Brewing (Kansas)

Jester King Craft Brewery (Texas)

Jolly Pumpkin Artisan Ales / Anchorage (Michigan)

Lagunitas (California)

Brewery Ommegang (New York)
Baird Beer (Japan)

Ben Middlemiss Brewing (New Zealand)

Ca l'Arenys (Guineu) (Spain)

Coniston Brewing (United Kingdom)

Dieu du Ciel (Canada)

Mahr's Bräu (Germany)

Mikkeller (Denmark)

To ØL (Denmark)

Yeastie Boys (New Zealand)