Tulsa World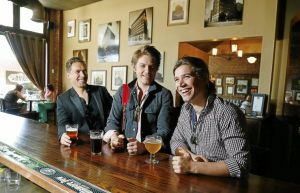 From their beer to their music festival to the notes in their songs, Hanson has a simple focus.
"We made most of our decisions based on how well will we sleep after we make these decisions," Taylor Hanson said from the band's downtown Tulsa studio. "I think this is true with some of our greatest idols. They say, 'look, this is who I am and I'm going to have to create, I'm going to have to make music. So, at some point, that's got to come first."
More than 22 years after Isaac, Taylor and Zac Hanson's first performance at Mayfest, they have seen the world, played "MMMBop" more times than they can fathom, built an enormous and fervent fanbase and weathered tension between record labels and themselves. The creativity of the Tulsa-native brothers, so many years after they started their career as pre-teens, shows no signs of slowing.
Sunday's Hop Jam beer and music festival hopes to showcase that. It's another way to help build a community.
"You're growing this orb of stuff you're proud of that just grows and grows," Taylor Hanson said. "Then, every once in a while, you hope something really leaps out."
Hopefully, the inaugural beer and music festival Hop Jam will be one of those things that leaps out, they said.
Finding their fit
That Mayfest in 1992 was the first step down their long and winding path. Wearing sunglasses and greaser jackets, the three boys, with Isaac at age 11, Taylor at 9 and Zac at 7, had a harmony and rhythm impressive to many at the time.
And from most directions, they saw green lights.
"We were never told we couldn't do what we're doing," Taylor Hanson said. "We were raised in this very, 'If you work hard enough you can probably do that.'"
They recorded a couple of albums locally, including one with the song that would be their breakout hit. Eventually, they settled into their own roles and instruments, further honing their own sound as teenagers. But their age threw many off.
"I feel like, in some level, in our biggest moments of success we were always the underdog," Isaac Hanson said. "As you're the young kids, you're definitely not like the core demo for being able to play the festivals."
"No one really knew what to do with us," Taylor Hanson added.
In 1997, though, things took off quickly.
The album "Middle of Nowhere" was released on May 6, 1997. It included the song "MMMBop," an earworm that dominated the radio and cassette players of teens across the world.
More than 4 million copies of "Middle of Nowhere" have been sold in the United States with approximately 10 million worldwide. All while they were teens themselves.
However, they didn't necessarily see what they were doing as something unique.
"We just followed people we thought of in the history of music, they were how old?" Taylor Hanson said. "But we just thought this was the next step."
Most adult musicians would feel pressure from such an album. Hanson was no different.
The pressure they felt came from outside forces, but Hanson knew they needed to keep their creativity in their own hands.
"We need to not lose control of it," Taylor Hanson said. "I think that was our biggest fear was that something from the outside, a label or whatever, was going to take away our ability to steer what we were doing."
By the time their second major-label album, "This Time Around," was released, some of those fears had begun to materialize.
The new 3 Car Garage
The album they wanted to release next was met with resistance from their record label at the time, Island Def Jam.
Around 2000, the struggle became more contentious. The music industry was changing and they were stuck in the middle.
They had a new album ready to send out the door, but there was pushback. Something had to change for the band to keep going.
That was a turning point, something that could benefit from what they fall back on: the brothers' creativity.
"The conflicts you come across really just harden that side of who you are," Zac Hanson said. "Because here I am in another difficult situation and this is what I keep coming back to."
This time in the band's career was filmed and made into the documentary "Strong Enough to Break," which follows the band through the roughly three-year period before venturing out on their own.
"It feels more relevant now because it feels like a flashback," Taylor Hanson said. "And you hear us talking about where we think the music business is going to go and what we have to do, and then you could make a list now of 10, 20 known bands that have gone through that exact same thing. Just caught in a quagmire of big labels and all."
The brothers formed their own record label, "3 Car Garage," in 2003. This marked a shift from band to entrepreneurs. They would have creative control over nearly every aspect of their work, but it greatly increased how much work they had to do on their own to move and promote their work.
That model, of taking charge of your own work and really owning its dissemination and connecting with fans, seemed crazy at the time. But it worked well for Hanson and has been effective for other start-up labels from bands.
"What's cool about it is that it is genuinely true that our model, some version of it, has become the second standard for the industry," Taylor Hanson said. "Not necessarily because of us. But, if you look at the way the music industry has grown, it's just this whole idea of know your fans, have control over your identity and build."
Through that time, hardcore Hanson fans didn't waver. But it was a long time without new material, so they had to find a creative way to pull them back in and start reaching out to more.
In their own hands
Hanson had an album of material ready to go when they started their label. It was just a matter of creating buzz and bringing fans in to hear it.
They embarked on the Underneath Acoustic tour, playing small rooms and selling an acoustic version of the album only at the shows.
Fans came out in droves, Taylor Hanson said.
When the album, "Underneath," did go on sale wide in 2004, it debuted at No. 1 on the Billboard independent chart and at 25 on the Billboard 200 with the lead single, "Penny and Me," reaching No. 2 on the Hot 100 singles chart.
Had the band found another label to release the album instead of charging out on their own, it could have gone differently.
"We never really felt like there was any other way to do it than to be very involved in everything," Zac Hanson said. "If you don't know that industry, you start learning it because it's something you care about. People are going to judge you based on these first impressions and we want to be a part of crafting those first impressions."
That galvanized the brothers, who continued to tour and record, releasing "The Walk" and "Shout it Out" in 2007 and 2010. They were able to keep control close and do creative things with their music and with their tours.
But it was lots of work and it took its toll. When it came time to head to the studio for their next album, which would be "Anthem," their ambition may have temporarily got the better of them.
"'Anthem' was the record that almost didn't get made for a completely different reason than 'Underneath,'" Isaac Hanson said. "We legitimately walked into 'Anthem' head-on, not paying enough attention to internal band tension."
Can't stop us
Taylor Hanson remembers sitting in their studio in the Brady District at their organ, trying to work through a song, but the band's frustration was keeping the work tamped down.
After the first recording for the record was done, Isaac said they realized it was time for a break.
"It hit the fan right at the end of that song and everybody kind of went, 'we're not ready to make this record,'" Isaac Hanson said. "We put a lot of internal pressures on ourselves to make this record and it was not good. In other circumstances we might have been able to get that done. But (not) in that particular moment, in that particular year, with all the stuff that had gone on up until that point."
But like brothers, and a band of brothers at that, they worked through the tension and frustration and let their "Anthem" out. Released last June, "Anthem" brings a high-energy, guitar-soaked album meant to pump up, to serve as an anthem for anyone.
"It was an album that really taught us a lot," Taylor Hanson said. "You can't underestimate what your headspace is before you go into that intensive passionate opinion-full project. It was almost like the subject of the record was countering the frustration.
"We turned that into a positive. It was, 'you can't stop us now.'"
---
Participating breweries
Prairie Artisan Ales
Brewmaster: Chase Healey
Location: 1803 S. 49th West Ave.
More info: Prairie is recognizable by its artistic labels created by Chase Healey's brother, Colin Healey. Chase plans to at least bring Bierica, a sour ale aged on raspberry, and Prairie JFJO, a farmhouse IPA, to the event. But you never know. They could always add more closer to Hop Jam.
Signature beer: Prairie Bomb!
COOP Ale Works
Location: 4745 Council Heights Road, Oklahoma City
Brewmaster: Blake Jarolim
More info: COOP Ale Works has grown to be a powerhouse in the Oklahoma brewing world, with a new 15,000-square-foot brewery with 30 barrels churning out several styles, including the F5 IPA, which has been popular in the state for years. The brewery recently celebrated its fifth anniversary.
Signature beer: F5 IPA
Battered Boar Brewing Co.
Brewmaster: Mike Sandefur
Location: 14801 Metro Plaza Blvd., Edmond
More info: Some popular flavors include Company Man Pale Ale, Coconut Cream Stout and Blue Face Scotch Ale
Signature beer: Briar Patch Amber
Marshall Brewing Co.
Location: 618 S. Wheeling Ave.
Brewmaster: Eric Marshall
Signature beer: Atlas IPA
Choc Beer
Location: Krebs
Brewmaster: Michael Lalli
More info: Choc is the old beer on the block. Choc got its start in the community of Krebs near McAlester, deeply rooted in its Italian heritage with a storied past. Choc was decades ahead of the craft beer boom. The brewery now has a wide range of beer.
Signature beer: Oklahoma Pale Ale
Roughtail Brewing Co.
Brewmaster: Tony Tielli
Location: 1279 N. Air Depot Blvd., Oklahoma City
More info: Roughtail just released its first anniversary beer called 1st Anniversary, a hoppy double IPA. The brewery plans to bring Red Republic, 12th Round, Roughtail IPA and Polar Night Stout.
Signature beer: Roughtail IPA
Willows Family Ales
Brewmaster: Heath Glover
Location: Tulsa, brewing out of Prairie Artisan Ales
More info: Glover plans to have his first beer, Family Ale, ready this week, just in time to unveil it at The Hop Jam. Family Ale is an American sour ale, which is a type of beer that he would like to make popular in Oklahoma.
Signature beer: Family Ale
Mustang Brewing Co.
Location: Oklahoma City
Brewmaster: Gary Shellman
More info: Mustang Brewing Co. grew out of a homebrew operation with its first pint poured at McNellie's in Oklahoma City in 2009. Brewer Ethan Buckman said they plan to bring several experimental beers, which is a great way for the brewery to see what works and what doesn't. Sunday will cap a busy weekend for Mustang, with the grand reopening of its brewery Friday and the Oklahoma City beer festival Saturday.
Signature beer: Washita Wheat
Anthem Brewing Co.
Location: Oklahoma City
Brewmaster: Matt Anthony
More info: Started with a home brew kit by Matt Anthony, Anthem now has its own 15,000-square-foot brewing space in Oklahoma City. It's focused on a Belgian-style of brewing, using open-top fermenters.
Signature beer: Golden One
Dead Armadillo Brewing
Location: Tulsa
Brewmasters: Mason Beecroft and Tony Peck
More info: Dead Armadillo co-founder Mason Beecroft said they will be pouring their Amber Ale, Black Hop, Dead Ball Hooligan and the Nine Band IPA brewed especially for festivals. Beecroft also has exciting news — Dead Armadillo will have an even bigger presence in Tulsa.
"We have a building now, so hopefully we'll have our production up and running in Tulsa pretty soon," Beecroft said. They hope to have a brewery at Third Street and Peoria Avenue in the next six months. They have been renting space at Roughtail Brewing in Oklahoma City.
Signature beer: Amber Ale
Black Mesa Brewing
Brewmaster: Chris Sanders
Location: Oklahoma City
More info: Black Mesa Brewing Co. claimed a gold medal in Denver at the World Beer Cup last month. Black Mesa's Endless Skyway Bitter took home the top prize among 57 entries in the competition's Extra Special Bitter category.
Signature beer: Black Mesa Blonde
---
Hop Jam 2014
Who: Hanson, Robert Randolph & The Family Band, Butch Walker and a local band, Capitol Cars, chosen by voters.
When: Sunday, May 18. Event opens at 3 p.m., music begins at 5 p.m.
Where: Revolving around North Main and Brady streets with entrances at Boulder Avenue and Brady Street and Brady Street near Boston Avenue. The stage will be at Archer and Main streets. The beer festival will be in an area at Main Street between Brady and Cameron streets and will be open to those 21 and older.
Info: Free to attend music area. Admission to beer area is $10, which includes several samples. More samples can be purchased.
Donations of nonperishable food items will be accepted at the front gate to benefit the Community Food Bank of Eastern Oklahoma. Raffle tickets will also be sold for the chance to win a hop-shaped guitar made specifically for the Hop Jam.