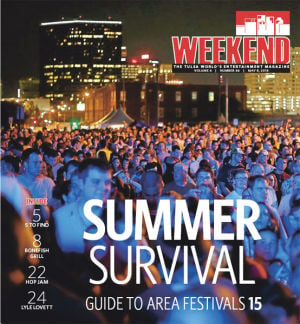 Mayfest
Headliners: Paul Thorn, Black Joe Lewis and Bob Schneider
Jerry's picks: Boxer-turned-musician Paul Thorn is a great Southern blues/rock songwriter with a distinctive voice. Be sure to listen to "Hammer and Nail" and "Ain't Love Strange." Also see Dante & The Hawks at 8:30 p.m. May 15 at Boston Stage, Loaded Dice at 7:45 p.m. May 16 and the Tulsa super combo of Beau Robertson, Wink Burcham and Paul Benjaman at 6:30 p.m. May 17 at the Williams Green stage.
Hop Jam
Where: Brady Arts District, north of downtown Tulsa
Headliners: Hanson, Robert Randolph & the Family Band
Jerry's picks: All of the above. It's Hanson's first time performing in Tulsa in years. Robert Randolph are a fun, soulful jam band. Butch Waller was announced this week and a local group will be announced next week.