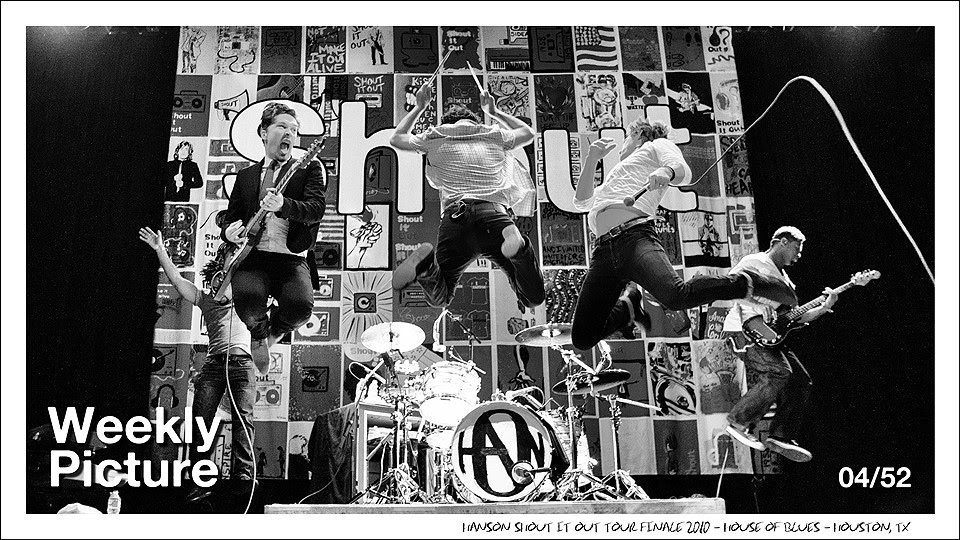 WEEKLY PIC
Music brings us together, this week we are reflecting on a 10 year anniversary of the Shout It Out album. Thanks for shouting it out with us for the last decade and beyond.
MESSAGE FROM THE BAND
10 years ago today we released the album Shout It Out! To make the occasion, we're posting a brand new episode of the HANSON Time Podcast today highlighting none other than the Shout It Out album. It is crazy to think a decade has already passed, but amazing to look back at all the memories and all the music that been created along the way. We are very nearly finished with the 2020 Members EP, Continental Breakfast In Bed, and just a few more weeks away from launching a new design for Hanson.net, we can't wait for you to hear  and see what we have been working on, and look forward to continuing to celebrate this anniversary with the launch. Thank you for all the years of music that you have made possible. We look forward to many more anniversaries to come.
Isaac, Taylor And Zac
HANSON TIME PODCAST
Fan Club Exclusive: Don't forget to join us each week for HANSON Time Podcasts. For each podcast, a lucky fan club member will interview the band on subjects voted on by members. We're happy to announce we're continuing the podcasts into June!
Don't forget to renew your Hanson.net membership for 2020!
•    Members Only EP
•    Member lines at concerts
•    Meet & Greet opportunities with the band
•    Pre-sale concert ticket opportunities
•    Exclusive videos, photos and blogs
•    Exclusive merch for members and much more!
You can find your current expiration date by going to your My Account page. Not a member? join today!