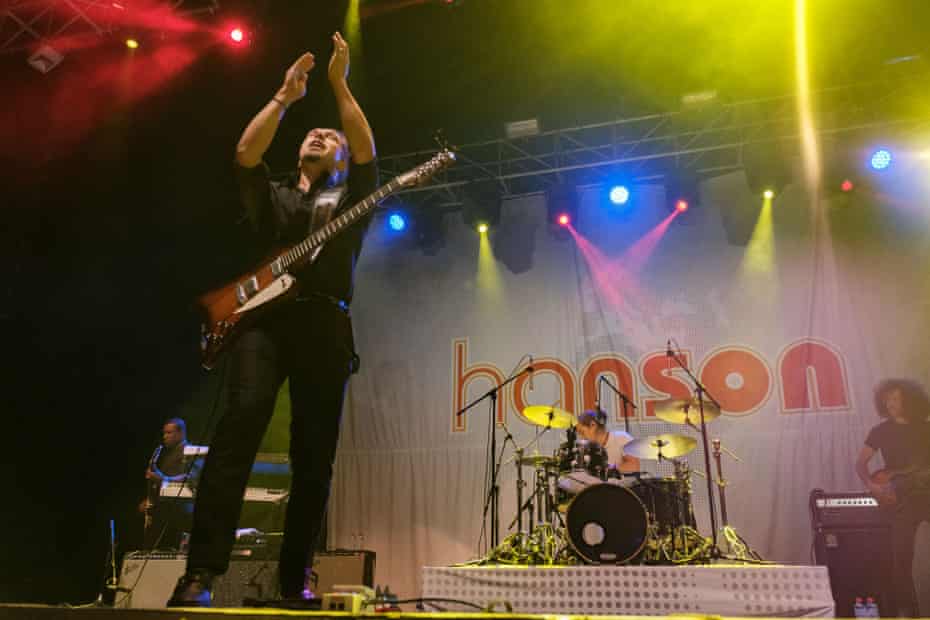 Stephanie Van Schilt
Monday 19 June 2017 15.00 EDT
On stage at the sold-out Forum, Hanson frontman, middle-sibling and all-round-dreamweaver Taylor tells his audience that the trio's new song, I Was Born, is about getting to the core of what you've always really wanted in life.
"That crazy idea about who you wanted to be, before you had that job you have — before all the shit you have to deal with," he says.
For me, and for many like me in the 1990s, I knew exactly who I wanted to be: Mrs Jordan Taylor Hanson. To paraphrase Oscar Wilde: we were all in our teenage bedrooms, but some of us were looking up at stars.
The walls and ceiling of my suburban room were plastered with Hanson, pages torn from Smash Hits, Dolly, TV Hits and some specifically imported special issues from the States and Japan. I had lifesize posters bought with hard-earned pocket money from What's New – and not just one CD single, but every CD single, of every song, multiple times over (they had different remixes and bonus tracks, and I was a completist).
The Middle of Everywhere tour marks a special anniversary for the brothers and their no-longer-tween fans. Heading from Europe to Australia and then around the world, they are celebrating the 25th anniversary of the band's formation, and the two decades that have passed since the release of Middle of Nowhere, the record that put them at the centre of the 90s pop music map.
Some will be surprised to hear that Hanson have been consistently releasing studio albums every few years since 1997. They've been back to Australia for smaller shows a few times, but this is the big nostalgia tour, reaching for a market that hasn't been tapped for about 20 years. And with sold-out shows in Melbourne, Sydney and Brisbane, it's working.
In the 90s, Hanson were especially huge in Australia. Their catchy nonsense ditty MMMBop spent nine weeks at No 1 on the ARIA charts, and made Hanson a household name for anyone with adolescent daughters. They were imprinted on hearts, minds and bedroom walls across the globe, as Middle of Nowhere sold 10 million copies worldwide.
And on Sunday night, those once-adolescent daughters – now 30-somethings like me, many watching through their mobile phones – are out in full force.
The Forum is electric and raucous, fuelled with unbridled joy and shameless nostalgia. It's bright orange logos and sunshine, a place where we plant a seed, plant a flower, plant ten thousand roses while relishing the unchallenging themes of love and loss, happiness and sadness, and, well, whatever MMMBop is.

"We've got a lot of history with this great town," Taylor says, flirting with the audience. Isaac brings up the "little in-store performance" way back in 97 that saw 20,000 young girls (and their poor parents) head to Southland shopping centre in Melbourne to watch a free Hanson show. Twenty years ago I had lined up for that show from 4am; this time, I drove myself to the concert, was able to refrain from hysterical sobbing, and didn't need to race back to record their performance on Hey Hey It's Saturday when I got home.
The songs from Middle of Nowhere — Weird, Where's The Love?, Madeline and MMMBop — are greeted, of course, by the loudest singing and screams, but other favourites like Penny & Me also stand the test of time. Their newer stuff is just as poppy and optimistic, and apart from minor technical difficulties with pitch in the second half – and a strange moment when Isaac realises he has jumped his script cue, and stops talking to the crowd mid-sentence – it's an excellent show.
Hanson, undeniably talented musicians, switch between instruments; Taylor still bends his knees while singing and belting the keys, the way you remember; and their collective acapella cover of Rockin' Robin – a callback to their origin story – remains a testament to their vocal skills. Beyond that though, the band revel in the pure pop ability held by all good contemporary chart toppers, from Swift (the only other Taylor that matters) to One Direction: they can make you – the fan – feel like you're the most important person in the world.
When I wallpapered my room with the the sweet, sweet faces of Taylor, Zac and Isaac, it wasn't about mere decoration, but dedication; it was the visual projection of my deep, undivided (and arguably unrivalled) love of the band. The only thing I regret more than growing a plaited rats tail to emulate Taylor's is letting that love die. For many, it's continued – shout out to those who have been part of Hanson.net for all these years – but most of us, those less resilient, have taught ourselves to push this love aside and take up more "credible" (aka androcentric) cultural pursuits.
If the attack at Ariana Grande's show in Manchester taught us anything, it was that pop music is an empowering force, and the community of fans that revel in it – mostly teen and pre-teen girls – are powerful enough to be seen as a threat to patriarchal dominance, and to religious extremists. That's exactly why they need to be celebrated.
I embraced my inner fangirl on Sunday, and danced to songs I haven't listened to for years. Reviewing a band that has held your heart before you'd even held anyone's hand is an impossibly biased task. But for the polite crowd, the feel in the room, the smile on my face and Hanson's overall performance, I'm giving the Middle of Nowhere tour four stars — one for each of Zac Hanson's children.
Yep, he has four kids. See, now you feel old too.
• Hanson play Sydney on 21 and 22 June, Gold Coast on 24 June, Brisbane on 25 June, and Auckland on 27 June, before touring South America and the US