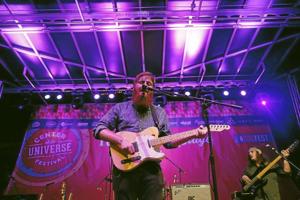 Center of the Universe Horse Thief
Horse Thief performs at last year's Center of the Universe Festival. The Oklahoma City band returns to the Brady Arts District for Hop Jam. CHRISTOPHER SMITH/Tulsa World file
Horse Thief
Listeners looking for a big and complex sound can find it with Oklahoma City's Horse Thief.
From big themes to personal reflections, Horse Thief has distilled it all down into its first big studio album, "Fear in Bliss."
The band formed in Texas but later moved to Oklahoma City to attend the Academy of Contemporary Music at University of Central Oklahoma. After graduating, it signed with the same management as The Flaming Lips and soon got to work on the songs that would become "Fear in Bliss," a rock sound.
The band describes "Fear in Bliss" as an album focused on "finding yourself and what you believe in, and finding the comfort in acknowledging fear. … I've struggled with anxiety and depression which comes out a lot on the new album. But when everything gets rough, I think there's always a way to fix it. The biggest thing for me is to give comfort to people, to shed light on the truth that someone is feeling the same way as them."
Horse Thief played last year's Center of the Universe Festival and toured extensively after their release. The band will play The Hop Jam second.
Jamestown Revival
Jamestown Revival put together an uplifting sound that brings a healthy dose of feels to the audience.
With a folk rock sound that is distinctly more folk than rock, the Austin, Texas-based Jamestown Revival includes childhood friends Jonathan Clay and Zach Chance, coming together to make music that's hard to ignore. Its folk and Americana roots added to an indie-rock vibe come together through compelling storytelling for a group that's not just fun to listen to but fun to watch.
Their album "Utah" brings those elements together in a sweeping fashion.
"I think the outdoors serve as our muse," Clay told the music website mxdwn.com's Rachel Zimmerman. "So I think if we're feeling maybe like we're just numb to the world, I think when we get out into the woods, it awakens our spirit. It makes creating feel more natural and easy."
Jamestown Revival played this year's South by Southwest, playing a featured slot on the Pandora music stage. It takes the Hop Jam stage third.
Black Joe Lewis
With his wailing guitar, Black Joe Lewis has a funky fusion of blues and rock that has just enough grime to draw a connection from the contemporary artist to his vast musical influences.
Also hailing from Austin, Lewis has built a reputation with his dirty blues sound that is fun to listen to but not easy. It's complex and exciting to see where the musician goes next.
Lewis formed his band in the mid 2000s with the name Black Joe Lewis & the Honeybears, though it performs now just under the name Black Joe Lewis.
He grew to be part of the Austin music scene, but his skills grew and more attention came calling. It opened for Spoon on tour in 2007, the same year as the band's debut album.
The following year the band signed with a new record label and performed at a handful of festivals, where it started to gain more notoriety. In 2009, the band released its second album, which grew their momentum even more.
The band's fourth album, "Electric Slave," was released in 2013. Lewis and the band were featured at this year's South by Southwest Music Festival.
The Polyphonic Spree
The sound that comes from The Polyphonic Spree is so big and uplifting, it's hard to not smile.
And it's hard to not be impressed. With about 20 members, the only sound level they know is full.
The Dallas-based band formed in 2000 and features a choir, as well as brass section, strings, flutes and all the instruments one would expect to find in a standard rock band setup.
Tim DeLaughter has led the band since its formation, guiding its big, inspirational sound for more than 15 years. And the band has had several lineups over those years. Tulsa-born Annie Clark, better known by her stage name, St. Vincent, is an alumna of the group.
The band, which will go on just before Hanson, has released four studio albums, as well as a holiday album. Its music has been featured in several films and television shows, and its New Year's Eve concert last year drew more than 40,000 people to the Dallas show.