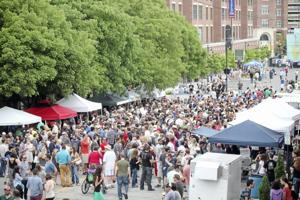 The Hop Jam
Craft beer fans line up for samples during last year's Hop Jam festival. The beer portion of the event will run north on Main Street from M.B. Brady Street. CHRISTOPHER SMITH/Tulsa World file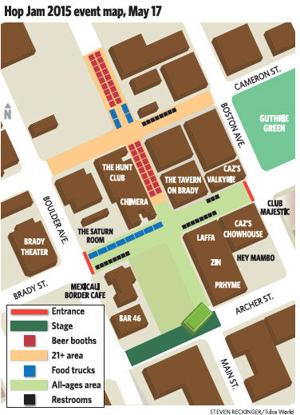 After about 30,000 people came to experience the first year of Hanson's beer and music festival, The Hop Jam, the brothers are back.
This time, they're bringing even more music and beer to downtown Tulsa for a celebration of the local crafters and artists.
It'll be a day full of craft beer and great music. Here's what you need to know to get the most out of your experience.
When: Gates open at 1 p.m. on M.B. Brady Street between Boulder and Boston avenues. Music starts at 3 p.m. with All About a Bubble. The beer festival opens to everyone 21 and older at 3 p.m.
Where: The festival runs north from Main and Archer streets nearly to Soundpony bar. The beer portion runs from Main Street and M.B. Brady Street north. The north-facing stage will sit at Main and Archer streets. The audience will fill in the parking lot and street area west of Main Street.
Tickets: The concert portion is free to attend and is all ages. The beer portion is restricted to those age 21 and older. Beer can be purchased by buying tickets for individual beers at the festival.
A VIP experience is also available for beer fans. The Hop Head experience is $45 and grants patrons unlimited beer sampling and early entry into the beer portion. Hop Head VIP entry starts at 2 p.m. Tickets are available at thehopjam.com. Also available is an unlimited sampling ticket for $35, though early entry is not included in that package. Both include a Hop Jam tasting glass and event lanyard, in addition to unlimited beer tasting.
Music lineup: Starting at 3 p.m.: All About a Bubble, Horse Thief, Jamestown Revival, Black Joe Lewis, The Polyphonic Spree, Hanson. The festival is set to wrap up about 9:30 p.m.
Beer: The list includes 14 breweries from Oklahoma, seven from elsewhere in the United States and nine international breweries. Beer tickets will be sold on site to be used to purchase beer from brewers.
Parking: A large parking garage sits at Main and First streets, one block south of the festival. Another garage is located at First Street and Cheyenne Avenue, and another is at First Street and Cincinnati Avenue. Surface lots are located at Archer Street and Boston Avenue. Additional parking will be available on the street throughout the Brady Arts District, where available.
Hop Jam guitar: Hanson has partnered with Fab Lab Tulsa to construct a playable version of The Hop Jam logo: a guitar with a body shaped like a hop. The guitar will be raffled off at the event Sunday, and proceeds will benefit the Community Food Bank of Eastern Oklahoma. Tickets will be on sale Sunday.