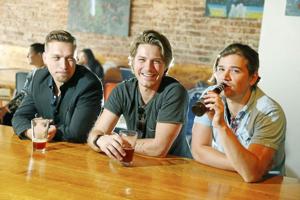 Isaac, Taylor and Zac Hanson at Chimera Cafe drinking Hanson Brothers Beer MMMhops on May 12, 2015. TOM GILBERT/Tulsa World
We are getting closer to The Hop Jam beer tasting event and the voters are whittling down their favorite beers.
Who is going to be the king of The Hop Jam beer voting? So far Stillwater's Iron Monk Brewing Company's Milk Stout has had the most votes. But it all starts over during the next voting bracket.
So who will you vote for? Iron Monk's Milk Stout, Prairie Artisan Ale's Bomb!, Marshall Brewing Co.'s This Machine or Dead Armadillo's Amber?
Vote at tulsaworld.com/hopjam
The Hop Jam, which will have about 30 breweries pouring beers, is set for Sunday, May 17, in the Brady Arts District.
Last year's event was huge but this year's is even bigger with all the Oklahoma breweries and some international breweries with special beers just for the event.
The Hanson brothers are hosting the event and even have some new beers in addition to their Mmmhops Pale Ale.
Here is how they described their new beers:
They are on either side of the spectrum of flavor, a light-bodied farmhouse ale and an over-the-top coffee stout.
Hop Jam Festive Ale: We love a great farmhouse ale, because it has personality and depth of flavor, but it is refreshing and easy to drink. This beer brings together the characteristics of a traditional farmhouse, with a balanced malt character, and a dry earthy finish from the hops, but it finishes with a citrus nose which comes directly from the orange peel and coriander.
We plan for the Hop Jam Festive Ale to also be available on tap around Tulsa this summer on a limited release.
Okie Coffee Stout: This monster stout is made up of chocolate malt and oats, with expertly roasted Ethiopian coffee beans, giving it a roasted flavor and a full-bodied mouth feel. Additionally we have added rich vanilla and cocoa nibs, to drench the palate with smooth sweetness. Finally we add oak barrel chips, which bring all the flavors together for a beer worthy of the stout Okie spirit.
Looking forward to trying these beers as well as the other beers not even in the state yet.