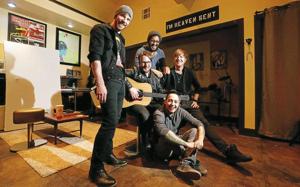 All About a Bubble — Clinton Summers (left), Dustin Storm, Jawn Vawka, Luke Chronister and Fabian Robles — will be opening The Hop Jam festival on Sunday afternoon. JAMES GIBBARD/Tulsa World file
Tulsa music fans have spoken: All About a Bubble will open this year's The Hop Jam in the Brady Arts District on Sunday afternoon.
More than 35 bands entered the Awesome Opening Band Contest this year, and those entries were narrowed to five finalists. Two weeks of voting ended Friday with All About a Bubble earning the most votes. The Tulsa World hosted the contest with the Oklahoma Film and Music Office.
But it was a tight race: Only 100 votes separated All About a Bubble from the nearest band, The Lunar Laugh from Oklahoma City. Tulsa-area bands Skytown, The Lukewarm and SocietySociety were also up for the spot.
Made up of Dustin Storm on vocals and guitar, Luke Chronister on vocals and guitar, Clinton Summers on bass, Fabian Robles on drums, and Jawn Vawka on guitar, All About a Bubble has been playing for more than four years. They've toured regionally and play around Tulsa regularly.
The band went on a tour last year that took them up the East Coast. In March, they played the South By Southwest Music Festival in Austin, Texas. They are also set to play during this week's Mayfest.
All About a Bubble will open the festival Sunday in the Brady Arts District. They are set to play first before Oklahoma-based Horse Thief followed by Jamestown Revival, Black Joe Lewis and The Polyphonic Spree. Hanson will close out the night.
Gates open Sunday at 1 p.m., and music starts at 3 p.m. The shows are free to attend. For more information, go to thehopjam.com.