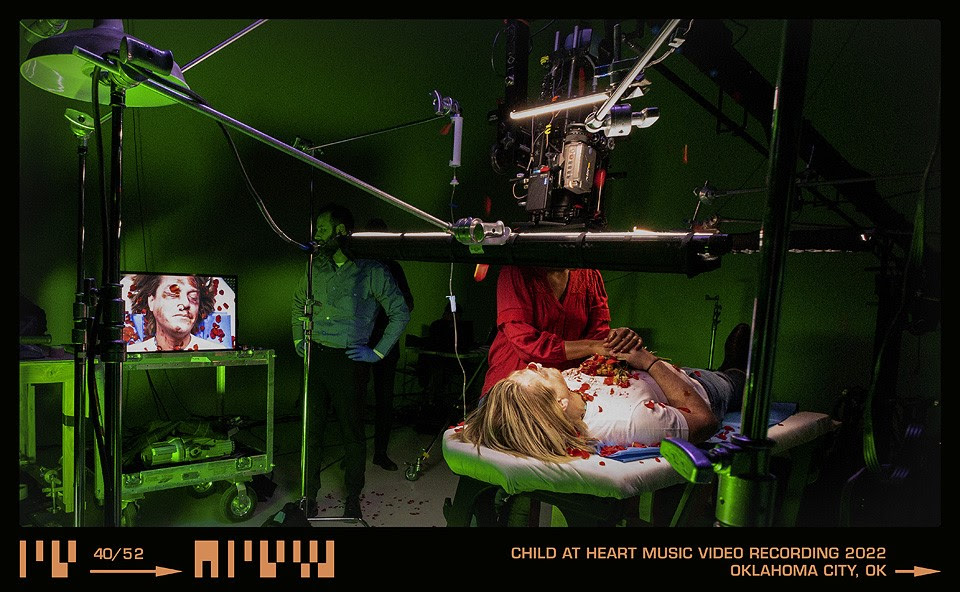 WEEKLY PIC
The new music video for Child At Heart, is unlike anything we have ever done, complete with fake injuries, moving props and a bit of acting from Taylor. This video (and song) are not to be missed!
MESSAGE FROM THE BAND
Well it has been a very big week for us with the release of Child At Heart last Friday. If you haven't heard the new single, just stop reading right now and check it out. For that matter maybe just head over to YouTube and watch the video, that way you get the full audio visual experience. The CAH music video is not like any we have ever made, it is somber and playful in a style we have never ventured into and if we do say so ourselves, it brings something special to the way you hear the song.
2022 will see the release of the RGB album, but that is not all, as May will also see the release of the 2022 members EP, White Rabbit. We have been so focused on the launch of the RGB world tour and album, the EP has just been waiting in the wings for the right moment, and yesterday we confirmed the dates this month we will begin recording. Once complete, we will be sharing all the details of when and where members can download their copy, but if you want to be first to hear it, best join us on May 9th at 7PM for the official live streaming listening party, part of our 2022 HANSON Day events.
After a few month hiatus, The HANSON Time Podcast is back! Episode 26 will drop tomorrow and is all RED, answering questions about Child At Heart, the new music video, and even diving into some of how RGB was made. If you're a Hanson.net member, you can find the new episode starting tomorrow afternoon, as well as the full HTP library in the Hanson.net Media Player.
Our Red Explorer online scavenger hunt is ongoing, so if you haven't started playing yet, or are still a few Pins shy of completing your new set, you still have until the end of the month to play. We have had one of our biggest responses ever to this months game, so there are lots of Members to ask if you need a helping hand. Happy Hunting!
Isaac, Taylor and Zac
RED GREEN BLUE TOUR TICKETS ON SALE NOW
Beginning in June in Europe, the RED GREEN BLUE WORLD TOUR will bring HANSON to the US and Canada from July-September, Latin America in September and Australia & New Zealand in November. The band's first major tour since their String Theory album & tour in 2018/2019, fans will be in store for a tour which not only features the premiere of 15 songs from the new project but will also be the first tour to include live performances of 2020's Against The World as well as career spanning set lists of fan favorites.
For more information, visit: www.Hanson.net
HANSON DAY 2022
Member Exclusive: We hope you will join us for HANSON Day 2022 in Tulsa. The full event schedule is out now and we hope to see you in Tulsa in May!  RSVP now!
HANSON TIME PODCAST
Member Exclusive: The Hanson Time Podcast returns for members beginning on Feb 18, 2022 at 7pm CT with a discussion of Child At Heart and a round of Family Feud played against one lucky member.
NEW MERCH IN THE HNET STORE
Check out all the NEW Child At Heart merch available in the HNet Store!
HNET EXPLORER
Member Exclusive: Members, don't forget play our latest Hanson.net Online scavenger hunt Red Explorer! You solve the clues we give and you earn pins. You have until the end of the month to earn all the new pins.
CHILD AT HEART AVAILABLE NOW
"Child At Heart," the first single from the trio's eagerly anticipated new project, RED GREEN BLUE is now available. Written by Taylor Hanson, and co-produced by Taylor, GRAMMY® Award-winning Producer/Engineer/Mixer Jim Scott (Tom Petty, Red Hot Chili Peppers, Wilco) and GRAMMY® Award-winning artist/producer David Garza (Fiona Apple, Midland, Sharon Van Etten), the dynamic new track is available now via 3CG Records at all DSPs and streaming services.
Watch the Child At Heart video now.