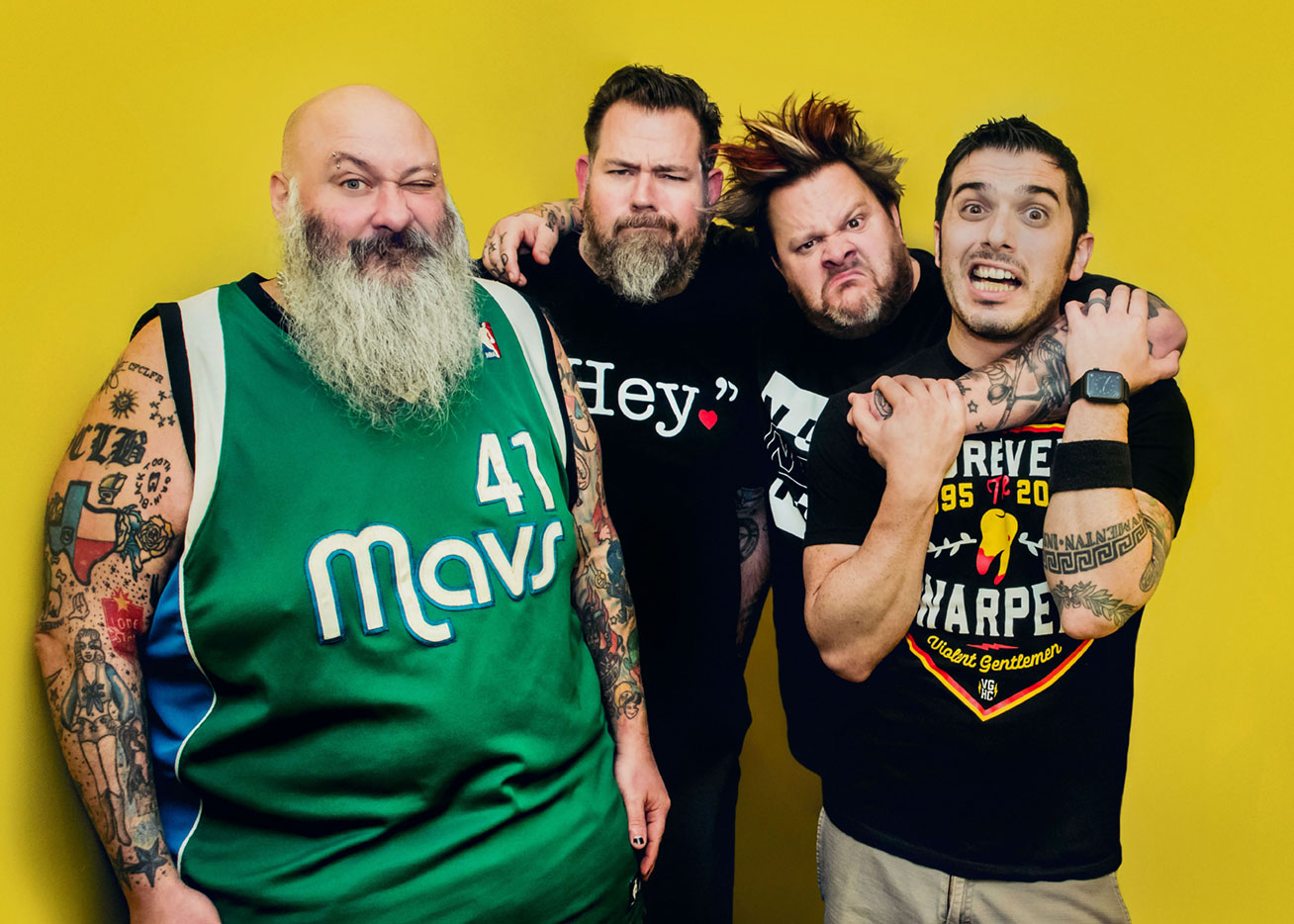 Starting way back in 2019 to celebrate their 25th anniversary, Bowling For Soup embarked on releasing a series of stunning cover songs. This has seen the band having so much fun covering artists like Social Distortion, The Eagles, and Kanye West, so much so that they're still putting new covers out when time allows.
The latest song to get the Bowling For Soup pop-punk treatment is the late 90's hit 'Where's The Love', by US sibling trio Hanson (they of MMMBop fame). Unlike most covers however – the Hanson brothers – Zac, Taylor, and Isaac also feature alongside Bowling For Soup on the track, adding their vocals alongside Bowling For Soup frontman Jaret Reddick.
Talking about the cover Jaret Reddick said "Taylor Hanson and I have been friends for a long while. So when Chris threw the idea of "Where's The Love" into our "cover songs to record" mix, I thought, "Never hurts to ask!" Those guys stay BUSY! The idea was for Taylor to sing the bridge. You can imagine our surprised when he sent it back with himself, Isaac and Zac all singing on the song! And WAY above and beyond what we had asked."
He adds "Our voices sound so cool together, and hearing them sing over the huge guitars is freakin amazing! I have high hopes for this one!"
The new cover comes alongside a music video, which pays homage to everyone's favourite cartoon dog series, 'Scooby Doo'. The band even get their own Mystery Machine! Check out the video here:
Thar's not all Bowling For Soup are up to, as they returned to the world of live shows this past weekend in Texas, playing their first full band, full capacity crowd gig since the beginning of the COVID-19 pandemic. The band recently extended their rescheduled UK tour – which is now taking place in April 2022 – to include three huge new shows. The renamed 'Crowdsurf The UK' tour, is set to be supported by alt-rockers Lit and bubblegum punk specialists The Dollyrots. Longtime friend of BFS, podcast host and presenter Matt Stocks has also joined the line up, serving as host and DJ for the tour. Check out the full dates here:
April
12 – Empress Ballroom – Blackpool
13 – O2 Academy – Glasgow (New Show)
14 – Grimsby Auditorium – Grimsby
15 – Scarborough Spa – Scarborough
16 – O2 Academy – Birmingham (New Show)
17 – O2 Academy – Bournemouth
18 – Riviera International Centre – The Forum – Torquay
19 – Swansea Bragwyn Hall – Swansea
21 – De La Warr Pavilion – Bexhill
22 – Margate Winter Gardens – Margate
23 – O2 Brixton Academy – London (New Show)
Remaining tickets for all dates are on sale from Ticketmaster here (Affiliate Link).
All existing tickets for the original dates rescheduled from 2021 will be valid. If you cannot make the rescheduled dates, please contact your ticket provider. VIP tickets offering a selection of extra Bowling For Soup experiences and merch are also available (Full details of the VIP experience will be confirmed nearer the time subject to world events). VIP tickets are available from: http://www.bowlingforsoup.com
The new shows announcement comes hot off the back of the success of Bowling For Soup's brand new single 'Getting Old Sucks (But Everybody's Doing It)'.
The track has achieved hundreds of thousands of views and streams since its release last month and has already been hailed as one of their best songs of the last fifteen years. The video for Getting Old Sucks sees Jaret, Gary, Chris and Rob adjust to the challenges of getting older – in a manner of speaking – while still rocking out in time-honoured, tongue-in-cheek Bowling For Soup style. Check it out below: