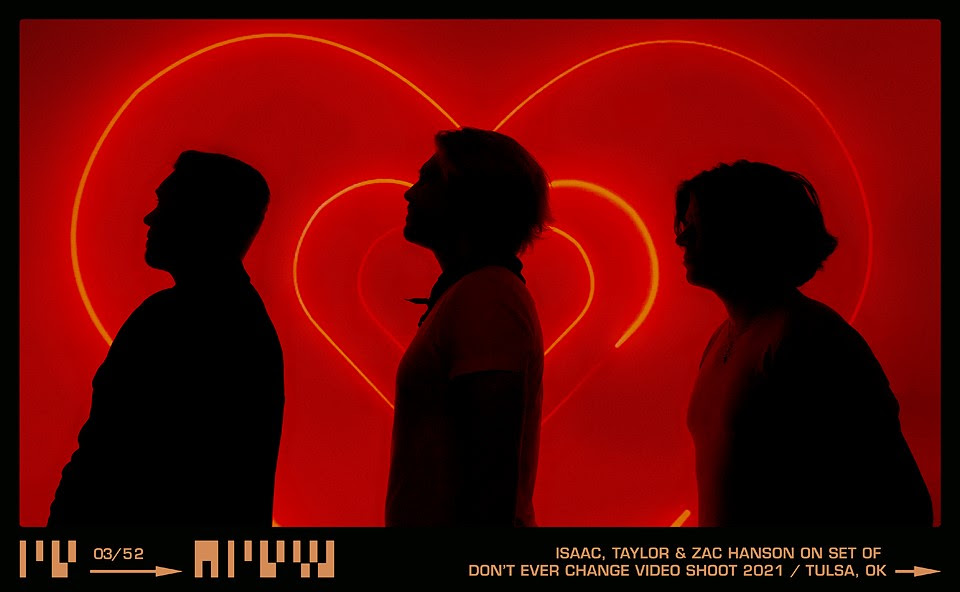 WEEKLY PIC
Here's an iconic moment from the video for our latest single, "Don't Ever Change," available tomorrow wherever music is sold or streamed.
MESSAGE FROM THE BAND
It's a big week, because tomorrow Friday, June 4th, the second single from Against The World is releasing, "Don't Ever Change". We hope you're ready for a complete change of scene, 'cause Don't Ever Change departs from the warm tones of Annalie, and leans hard into Power Pop. Bombastic drums, check! Loud Guitars, you bet. We are excited to share this song and thrilled to have the talents of the iconic Rick Nielsen (Cheap Trick) on loan as lead guitarist.
You will find Don't Ever Change on all major music platforms, but if you want to see the music video first, you will find the premiere on Rollingstone.com. @ 8am ET, with it going live on YouTube Friday afternoon.  If you're a Hanson.net member, pour yourself a drink (you deserve one) and join us for a Members Nightcap stream at 7PM CT. We will be chatting about Don't Ever Change and taking your questions live!
Our favorite thing about releasing Against The World one song each month, is we know from now through November there is always something to look forward to. Each month there is a new single, new video, new making of, new HTP podcast episode, as well as four months of unique live streaming concerts. July we are playing shows highlighting music from Middle Of Nowhere and This Time Around, August brings Underneath and The Walk, September Shout It Out And Anthem, and in October you get to choose, 'cause we are bringing back head-to-head voting for two streams of "Listeners Choice". We hope to see you at a show soon.
Thanks For Listening!
Isaac, Taylor and Zac
AGAINST THE WORLD + CONCERT SERIES
Join Hanson for their monthly concert series featuring brand new music from their 2021 release Against The World, PLUS unique set lists each night featuring a selection of their favorite songs from one of their six previous studio albums.
Tickets available now! Click here for more information.
2021 SUMMER CONCERT SERIES:
JULY 2 – 3 – Tulsa, OK – Cain's Ballroom
AUGUST 6 – 7 – Tulsa, OK – Cain's Ballroom
SEPTEMBER 3 – 4 – Tulsa, OK – Cain's Ballroom
OCTOBER 1 – 2 – Tulsa, OK – Cain's Ballroom
NIGHTCAP + ON JUNE 4TH
Member Exclusive: HANSON are hosting a Members Only Nightcap + DJ Friday, June 4th at 7 PM CT. They will be taking your questions and celebrating the release of Don't Ever Change, plus setting the mood with an early evening DJ set playing Power Pop and classic rock all inspired by your requests. For details and to submit your requests, CLICK HERE.