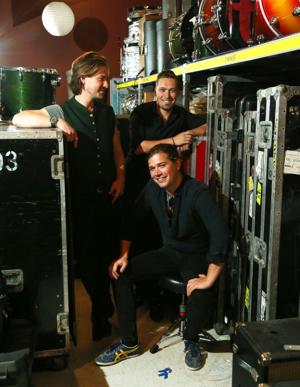 Taylor, Isaac and Zac Hanson pose for a photo in their downtown Tulsa studio on May 16, 2016. TOM GILBERT/Tulsa World file
It's been a busy few months in Hanson's downtown Tulsa studio.
The band has been busy working to release their latest EP, "Play," which will be released at hanson.net on Oct. 10. And last week, the band announced in a blog they were working on a new Christmas album. It will be their first since 1997's "Snowed In" Christmas album.
"We are now up to our ears in music preparation and pre-production for a new Christmas album," the brothers posted on their website. They added that it was strange to be working with so much Christmas music in late September, when high temperatures in "the sometimes spirit-crushing sunburn factory we inhabit here" were still in the 80s and 90s.
The song list now sits at 20, and that includes original holiday tracks. The title right now for the new album is "Wintery Mix." A planned release date was not yet announced.
Hanson has been active on their website this summer, giving fans a sneak peek at the work behind their latest album, "Play." It's the first wide-release (not including fan club releases) since "Anthem" in 2013.
Next year marks the 25th anniversary of their breakout hit album "Middle of Nowhere," and Hanson plans to mark the occasion with a world tour, new music and more beer from Hanson Brothers Brewing.
More information about the new music is at hanson.net.