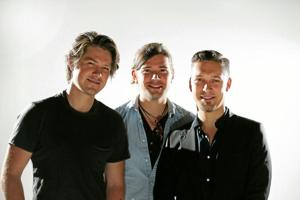 Taylor, Zac and Isaac Hanson May 2015
Taylor, Zac and Isaac Hanson, seen here in their studio in May, perform in animated Owl City music video.  TOM GILBERT/Tulsa World
Tulsa's Hanson "paved the way" for Owl City.
OC's Adam Young reminisces about his "magical" childhood in his new animated music video for "Unbelievable," which features the Hanson brothers Isaac, Taylor and Zac.
He credits the Tulsa band with teaching him to love music, he told popdust.com.
"I'm a child of the mid- to late-'80s, so I was in the studio thinking about stuff that isn't around anymore (like fads or clothing or styles or food, whatever it is) from my childhood," he said about the track in an interview. "I started to think. I had this whole list of things. I wrote this song based on that nostalgia.
"Hanson popped into my head right away. Of course, they really paved the way for me when I was in fourth or fifth grade. They really introduced me to my first love of music. They were the first music that I ever really started loving. I noticed that as a kid, too. It was a thing where I cold turkey reached out to them and sent them this song. Again, I didn't really know what to expect. They were so gracious and so kind and agreed to sing on it.
"I think it's way better because of their involvement."
"Unbelievable" is off of his new album "Mobile Orchestra," being released July 10 on republic Records. It also includes "Verge" with Aloe Blacc, "My Everything" and "You're not Alone."
---