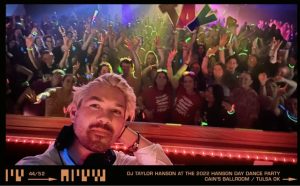 WEEKLY PIC
Who is getting excited for the party in May? Hanson Day 2023.

MESSAGE FROM THE BAND
The big news this week is we will be joining Busted on their UK 20th Anniversary tour all throughout September! There are a lot of shows and plenty of time to make your plans, so no excuses, we want to see you in person come September.

For those in this side of the pond, you don't have to wait until September to see a show. This weekend we will by playing in Brookhaven, GA, HANSON Day is coming up in May, we are playing in Monterrey Mexico in June and there are shows popping up all over the place.

In other news, HANSON Day prep is well underway, gallery paintings and photos are coming together, the 2023 EP Ambient is almost finished and we are deep into the plans for our HDay Scavenger hunt. It is going to be awesome to look back at back at the creation of Underneath Acoustic, and share it live with all of you. Underneath Acoustic was an important moment in the story of our band, and in our relationship with so many fans. We wouldn't be here today without it.

Isaac, Taylor and Zac
SPECIAL SHOWS 2023
Join us for special shows throughout 2023.
March 26th – Brookhaven, GA @ Cherry Blossom Festival
May 19th – Riverside, IA @ Riverside Casino
June 24th – Monterrey, MX @ Machaca Festival
July 1st – Hot Springs, AR @ Magic Springs Theme & Water Park
Sept 9th – Birmingham, UK @ Utilita Arena; Busted Tour w/ Hanson
Sept 10th – London, UK @ 02 Arena; Busted Tour w/ Hanson
Sept 12th – Bridlington, UK @ Bridlington Spa; Busted Tour w/ Hanson
Sept 15th – Nottingham, UK @ Motorpoint Arena; Busted Tour w/ Hanson
Sept 16th – Newcastle, UK @  Utilita Arena ; Busted Tour w/ Hanson
Sept 17th – Leeds, UK @  First Direct Arena; Busted Tour w/ Hanson
Sept 19th – Aberdeen, UK @  P&J Arena; Busted Tour w/ Hanson
Sept 20th – Glasgow, UK @  OVO Hydro; Busted Tour w/ Hanson
Sept 22nd – Liverpool, UK @ M&S Bank Arena; Busted Tour w/ Hanson
Sept 24th – Manchester, UK @  AO Arena; Busted Tour w/ Hanson
Check the calendar regularly throughout the summer.
HANSON DAY 2023Member Exclusive: 
Events start with the live streaming world premiere of our 2023 Members only EP on Wednesday, May 10th, and wrap with our Nightcap stream on Sunday May 14th, but HANSON Day is much more than an online only event. HDay is all about bringing this online community together for a weekend of fun in Tulsa, Oklahoma with a wide range of events and activities meant to entertain, challenge and inspire. Music is always our centerpiece and 2023 continues the trend as we invite all members world wide to tune in or come out for two concerts. Whether your join us in person or watch online, we look forward to celebrating with you this May!
Isaac, Taylor and Zac
CLICK HERE TO VISIT THE 2023 HANSON DAY PAGE