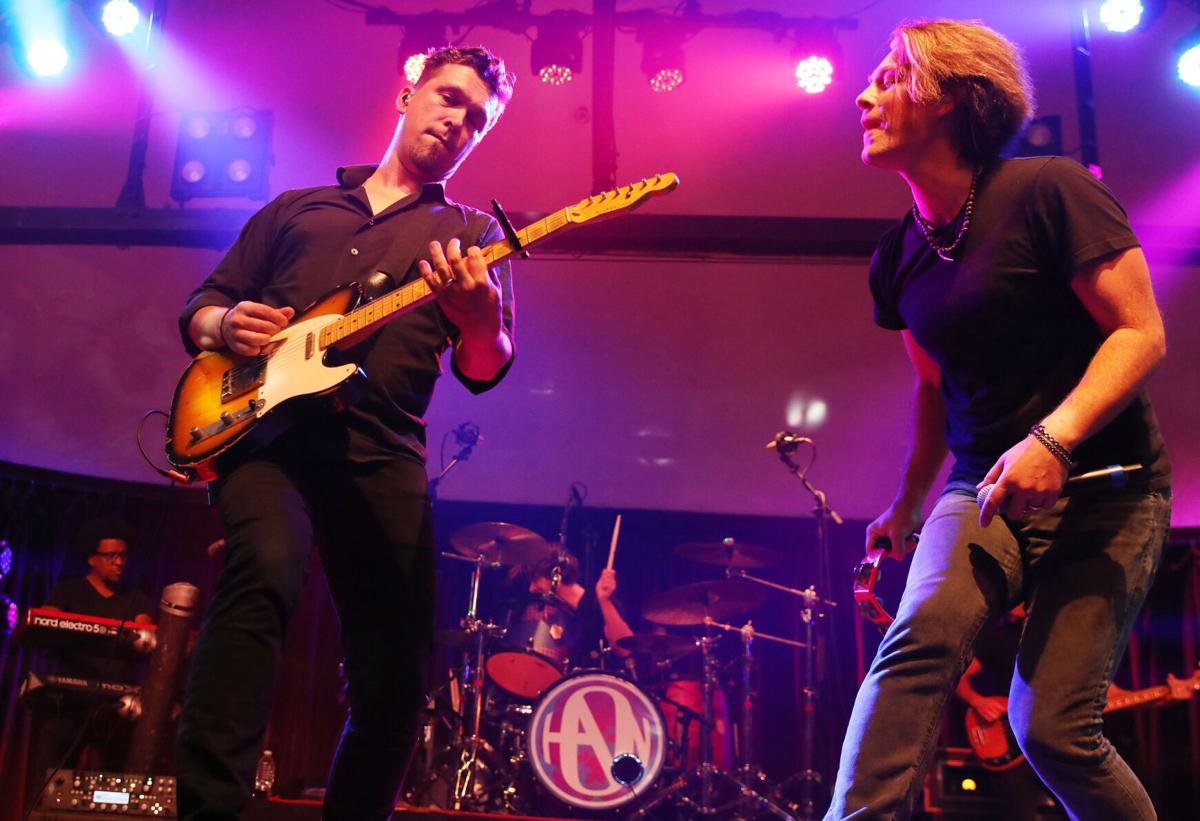 Tom Gilbert TULSA WORLD
Pop culture "world" history:
1872: Jules Verne gave us "Around the World in 80 Days."
2021: Hanson is giving you "Against the World" in eight days spread out over four months.
It would be darn near impossible for a veteran music artist or group to deliver its entire discography to an audience in one show. How long, exactly, might that show last?
Instead, Hanson will perform its discography in installments during an eight-show summer concert series at Cain's Ballroom that launches Friday, July 2 and continues, two shows per month, through October.
The shows are sort of a concert version of a double feature.
During the first six shows, Hanson will perform songs from the group's new album ("Against the World") plus material from one past album. For instance, the inaugural show will be "Against the World" plus material from "Middle of Nowhere," the multi-platinum 1997 album that Mmm-bopped Hanson into stardom.
The next show — Saturday, July 3 — will again be "Against the World" plus the next chronological album in Hanson's discography, and so on and so forth at subsequent shows until the group has revisited its entire body of work.
The final two shows in the series will vary in that the format will be "Against the World" plus a listeners' choice set list to be determined via fan feedback on social media and hanson.net.
Taylor Hanson, one of three brothers in the group, said he doesn't think anyone has approached a series of shows exactly this way. Asked how the idea came about, he said everyone has been looking at creative ways to engage audiences as we come out of the pandemic.
"We definitely were grateful for what we were able to do last year," he said. "Once we were able to do limited in-person and streaming shows, we saw a lot of engagement from fans. And so, as we looked to roll out new music, we knew that the full in-person tour where we get to go to cities all over the world, that was still a little ways away, but we didn't want to wait to put out new music."
Hanson wanted to find a way to introduce music to fans progressively (singles from "Against the World" are premiering monthly) and to make sure every show in the concert series, whether experienced in-person or via streaming, feels like a robust, unique experience. That combination of factors sparked the series.
Said Taylor: "One of the things that's interesting about where we are in our career arc is we have now put out enough albums and been in the marketplace for enough years that there is no one concert that can ever encapsulate all the work. … Especially six or seven albums in and many decades in, you really have a wealth of things that don't get included in most concerts. More than anything, these shows are a reflection of us looking for ways to make people feel part of a bigger story and make people feel excitement that, every night, they are going to see something that is a little different."
Taylor doesn't want to make promises Hanson can't keep. He's not going to climb out on a limb and say the group will perform every song from every album. Instead: "We are approaching each show with the intention to play as much from each album as we can and really create a live experience that takes people through that record."
Taylor said Hanson is excited to share the new album and excited to have new things to say that are original. He said there is "weight" to the group of songs on the album.
"The first two songs we have started with are the lightest of the entire album, so people will begin to feel the sense of what 'Up Against the World' means and what it's about — that idea of kind of overcoming obstacles and sort of finding solace in sometimes feeling like the underdog and feeling like you are up against challenges and finding a way through it.
"I think there are a lot of themes that seem as if they were written during the 18 months we have all lived through, but they were originally envisioned before it all began. I think it's kind of cool that these songs are now coming out as we are all coming through one of the more difficult times in a lot of our lifetimes and re-imagining what the future will be."
One track on the album features guest work by a guitar hero. Cheap Trick's Rick Nielsen plays on "Don't Ever Change." Awesome, right?
"It is pretty awesome," Taylor said. "We have gotten to get to know a lot of our heroes and he is definitely one of them. He is an amazing guitarist and continues to deliver great music. If you listen to that song, undeniably we are pulling from some inspiration of the power pop gods, so to have one of them — to have Rick Nielsen play — is just a total treat."
Asked if any Cheap Trick songs are personal faves, Taylor said, "I'm actually going to say something more looking forward. I think their new record ('In Another World') is really great."
Taylor specifically mentioned a track titled "Quit Waking Me Up." He said he and Nielsen spent time talking about each other's records last week.
"One of the great gifts of being an artist and being a musician is when you get to still be a fan and have people that you admire kind of reciprocate that," Taylor said. "It was a lot of fun to do and hopefully we'll get to (play that song) on stage together at some point."
Hanson's commute for the summer concert series could be made on foot, if the guys feel like it. Hanson's HQ (3GC Records) is located at 209 N. Main St. Cain's Ballroom is at 423 N. Main St. Hanson performed limited attendance and streamed shows at the historic venue in 2020.
"We know that stage well," Taylor said. "We know how the audience feels in that room. We're just excited to see people feel safe and feel ready to come out to a rock and roll show again. At this point, wherever that stage is, we're excited to be on it."
Taylor, asked if he still feels "ghosts" in the room at Cain's, said, "Buildings have a character and a good vibe or they carry negative vibes, too. Every time we come into Cain's I feel the ghosts of the good things that have happened there."
Today, Cain's. Soon, the world? Stay tuned for details about a world tour that will follow the summer concert series.
"These shows, just like the album, are releasing in a kind of a building format," Taylor said. "It's building up. Each month it's growing. One of the things it will be building towards is the announcement of the actual world tour that will take us on a big lap in 2022, so we're looking forward to that."