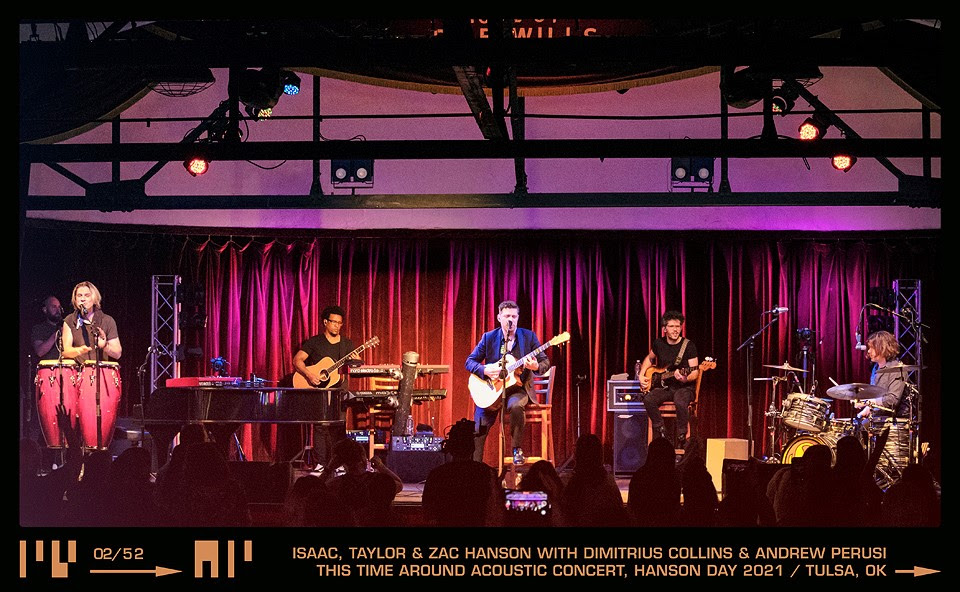 WEEKLY PIC
HANSON Day 2021 brought together more special streaming events than ever plus special live shows like our This Time Around Acoustic concert. We're already thinking about what 2022 will bring.
MESSAGE FROM THE BAND
Before we get any further, we just want to say thank you for celebrating HANSON Day with us! It was a pleasure to watch so many members from around the globe come together in the chats and on the forums, and to see the sheer numbers of you tuning in and playing along in our daily HDay Explorer scavenger hunt. Seeing so many faces in person on Friday and Saturday left us feeling grateful that we have come through a very hard year together and exited for the future!
We are just a little more than a week away from the release of "Don't Ever Change" on Friday, June 4th. Like most all of the songs on ATW, Don't Ever Change jumps off where Annalie began and takes you to a totally different musical place, one more inspired by garage rock and power pop. We were honored that our friend and musical legend Rick Nielsen lent his guitar licks to the song, which just adds to the excitement to share. It felt so good to be playing concerts again, and even better to know that restrictions have been lifted so our shows in July, August, September and October will all be full capacity rock shows! We can't wait to play for you.
Isaac, Taylor and Zac
AGAINST THE WORLD + CONCERT SERIES
Join Hanson for their monthly concert series featuring brand new music from their 2021 release Against The World, PLUS unique set lists each night featuring a selection of their favorite songs from one of their six previous studio albums.
Tickets available now! Click here for more information.
2021 SUMMER CONCERT SERIES:
JULY 2 – 3 – Tulsa, OK – Cain's Ballroom
AUGUST 6 – 7 – Tulsa, OK – Cain's Ballroom
SEPTEMBER 3 – 4 – Tulsa, OK – Cain's Ballroom
OCTOBER 1 – 2 – Tulsa, OK – Cain's Ballroom