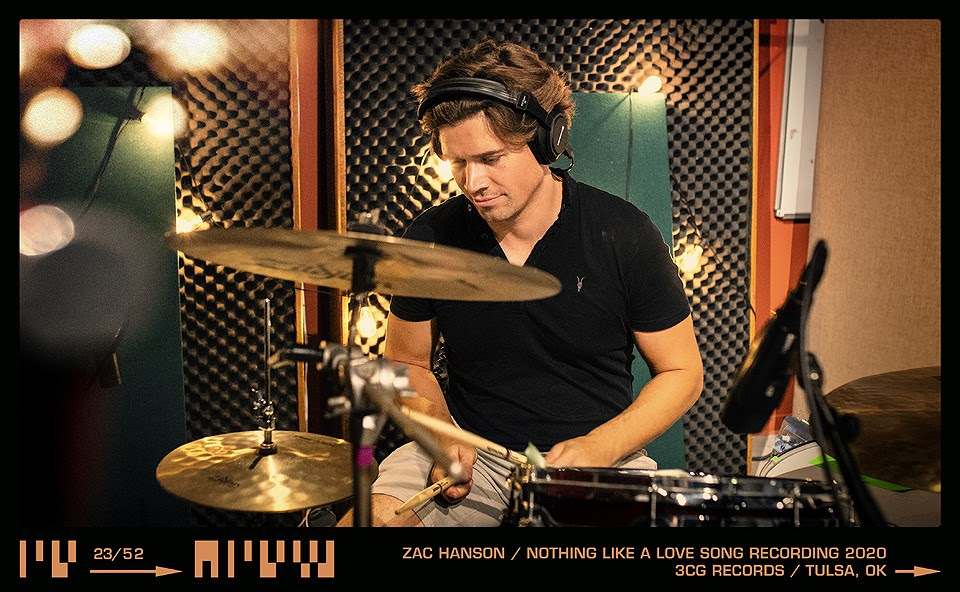 WEEKLY PIC
A big happy birthday to our drummer from the same mother…Mr. Zac Hanson.
MESSAGE FROM THE BAND
Our November streaming concert series is just around the corner, and with that comes the release of "Perennial" and the brand new song "Nothing Like A Love Song". We know absence makes the heart grow fonder, but waiting is not fun, so we are giving Hanson.net members early access! Starting today, members can listen to "Nothing Like A Love Song" in the Hanson.net media player. And it will be available up until it releases for sale and on streaming platforms on November 6th!
It feels like a huge weight has been lifted getting to play concerts again. In this year of unending question marks, this monthly streaming concert series we have just embarked on feels like just what the doctor ordered. Every month a new challenge, and a new show to craft, and hopefully something everyone can look forward to and share. We are thrilled that the theme for our November Stream is all around "Perennial" and the Hanson.net discography. So many of these songs have never been played outside of HANSON Day, and it feels like the right time to be introducing them to the world for the first time. It's only fitting that we will be sharing this moment with an in person audience made up exclusively of hanson.net members because they helped inspire them, but also because we will need their voices when we play "Roller Coaster Love," and "I Don't Want To Go Home," among others.
– Isaac, Taylor and Zac
WINTER MERCH
New Perennial Merchandise, Popsockets and so much more. Check out the new merchandise in the Hanson.net Store.
STREAMING CONCERT SERIES
HANSON are inviting fans around the world to join them for the second chapter of their streaming concert series on November 5 -7, which will also coincide with the November 6 release of their new album Perennial – A Hanson Net Collection. November's musical theme for the concerts will be inspired by the new album, Perennial, which highlights music recorded for the band's Hanson.net community over the last 20 years, but never before shared with the public. The collection also features a brand new track recorded exclusively for the release, "Nothing Like A Love Song".
For information on the livestreaming concerts and to find out how to access limited in-person tickets as a Hanson.net member, go to www.Hanson.net.
HNET EXPLORER
Member Exclusive: Don't miss out, join the hunt for Pins all throughout October! Every Monday a new hint will be shared, all you need to do is find the answer and you get a pin! There is still time to get this week's pin. Find the hint in the Hanson.net blog. All members are invited to play!
JOIN HANSON.NET
Don't forget to renew your Hanson.net membership for 2020!
•    Members Only EP
•    Member lines at concerts
•    Meet & Greet opportunities with the band
•    Pre-sale concert ticket opportunities
•    Exclusive videos, photos and blogs
•    Exclusive merch for members and much more!
You can find your current expiration date by going to your My Account page. Not a member? Join today!