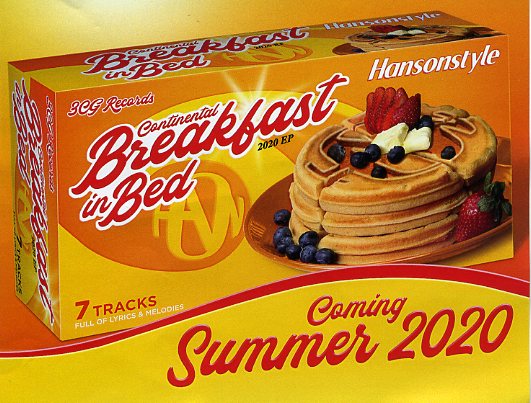 Coming this summer, the 2020 Hanson.net Members Only EP!  While Hanson usually does a 5-track Members Only EP recorded during March and released in May at Hanson Day, this year COVID-19 wreaked havoc on their plans, just like it has to so many of us around the world.  After completing recording on "Against the World" the forthcoming full length album in early March, the world went into lock down.  In early April, the band announced that this EP would "count the continents" and contain 7 tracks as opposed to the usual 5.  In May, they were able to get back into the studio with their crew and work on the 7 tracks:
Dressed in Brown Eyes
Miss You Like Crazy
Everyday
All I Know
Good Days
Change
???
The 7th track is thought to be "Begin Again", as seen on the white board in the background in several of the Hanson.net CBIB video clips that were posted during The Making Of.  The EP is currently off being mixed, mastered, produced and all that other good stuff that goes into making a CD.  But the good news is – fliers included in "Hanson Day" merch orders that have been arriving at fan's doorsteps say it is "Coming Summer 2020" so – SOON!  And all members who were paid before the new site launch will be getting a DIGITAL version of the EP in addition to a physical one.  Anyone just signing up for hanson.net membership now can choose which type of membership they wish to have.  I think we are all looking forward to having some new music to digest.