Hanson playing with an orchestra?
Relax. Those cute "MMMBop" kids from the '90s may have grown up, but they haven't exactly gone highbrow, singing "MMMBach" or some such now.
But the band of brothers — Isaac, Taylor and Zac — have been performing and making records for more than 25 years, and as Isaac remarked at the outset of their concert Wednesday night at Stifel Theatre, they were looking for a new challenge.
"What's the point of doing this so long if you don't start checking things off the bucket list?" he said.
For Hanson, that bucket-list item turned out to be a new album, "String Theory" (scheduled for release Friday), which features old and new songs arranged for band and orchestra, with an overarching theme, as Taylor put it, of "reaching for that crazy dream, reaching for the sky."
The trio, backed by an orchestra of 20 pieces or so plus a pair of support musicians, played "String Theory" in sequence and in its entirety. The orchestrations were by Oscar-winning arranger David Campbell, aka father of Beck Hansen.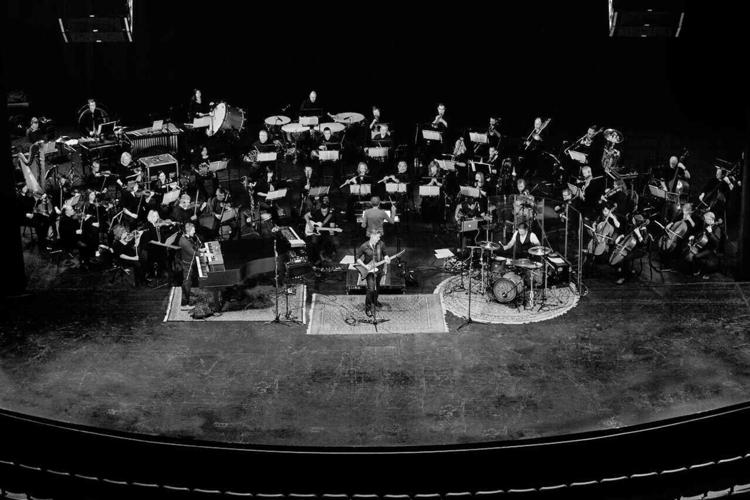 The theme Taylor spoke of was right there in many of the song titles, especially the new ones, such as "Reaching for the Sky," "Dream It Do It" and "Chasing Down My Dreams" as well as at least one older one, "You Can't Stop Us."
That kind of confidence, self-reliance and positivity is part of what has kept Hanson afloat as an independent act after its meteoric major-label ride was over. And while there's certainly nothing wrong with the message, its repetition made the evening — just as it makes the new album — a little one-dimensional.
The orchestrations, too, sometimes worked against the typical kinetic energy of a Hanson show, keeping audience members pinned down in places where it seemed like they wanted to get up and dance. They eventually found some opportunities, though.
Not much was said between songs, but the winning personalities of the brothers still shone through as they traded lead vocals — and sometimes instruments — and sang in three-part harmony.
As for "MMMBop," still their signature hit, they dispensed with it early, stripping it back to an acoustic arrangement with minimal orchestral accompaniment.
The second half of the show seemed to work better than the first, as the orchestra settled in and the sound mix improved, providing highlights such as "This Time Around" and "Battle Cry," on which band and orchestra rocked out with common purpose.
"What Are We Fighting For," which displayed a lighter touch, was equally fine, as was "Breaktown," which gradually grew in grandeur and volume.
The show concluded with two songs that had fans on their feet — the 2017 single "I Was Born" and "The Sound of Light" — before the finale, "Tonight," put them back in their seats, even though it returned one last time to the lyrical uplift and encouragement of the show's theme: "Don't wait til tomorrow," Taylor sang.