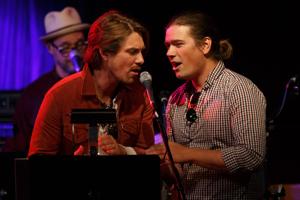 Hanson has signed on to headline the Tulsa showcase at the South by Southwest festival. Kevin Pyle / For The Tulsa World
A showcase of Tulsa talent will head south to represent the city at the annual South by Southwest Conference and Festival in Austin next month.
Performing at the official Tulsa Music Showcase, the first time Tulsa has been featured in an official nighttime stage, are pop stars Hanson, Casii Stephan and the Midnight Sun, Wink Burcham, RVRB and Broncho. Music will start during the day, with a showcase of artists playing the Tulsa Boom Factory day party, which will feature Lauren Barth, Mike Dee + Stone Trio, The Ivy, NUNS, Branjae and Travis Linville.
Officials with the Tulsa Office of Film, Music, Arts and Culture made the announcement Thursday in the lobby of the BOK Center. Abby Kurin, director of the Tulsa Office of Film, Music Arts and Culture, said that the expanded showcase, Tulsa's first nighttime official showcase, shows Tulsa's "continued and ever-growing presence" at the annual festival.
"So many other big cities are present down there," Kurin said. "With Tulsa joining those ranks solidifies what we're trying to do."
Tulsa FMAC took their first showcase to SXSW in 2015, sponsoring a day party called the Tulsa Boom Factory that showed off Tulsa talent in music as well as entrepreneurs. Last year's Tulsa Boom Factory featured Leon Russell as headliner.
Last year was also the first year for the "Created in Tulsa" trade show booth, which shows off the difference aspects of Tulsa's creative community, and is set to return this year. Some of the groups representing a wide swath of Tulsa's creative class at the trade show include The Mine, Woody Guthrie Center, Circle Cinema, the Blue Whale Comedy Festival, Tulsa American Film Festival, XPO Game Festival, YelpTulsa, VisitTulsa, Webb Branding and the MetKnow app.