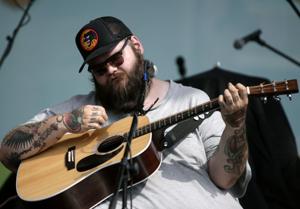 John Moreland performs Sunday on the Main Stage during The Hop Jam Beer and Music Festival in Tulsa. JOHN CLANTON/Tulsa World
Photo gallery: The Hop Jam Beer and Music Festival 2016
Related story: Hanson gives back with The Hop Jam
The Hop Jam on Sunday in the Brady Arts District was the first time Hanson did not play, stepping back the third year of the band's beer and music festival from headliner to host.
That doesn't mean the brothers lounged around all day.
Busy pouring beers and taking selfies with fans, Isaac Hanson said the weekend was a perfect way to celebrate Oklahoma beer, music, family and friends.
"I think it's harder not playing," Hanson joked. "It's as much as we could hope for."
Tens of thousands of people streamed in to the free downtown festival all day as beer flowed and music played. A dozen bands, more than half of them from Oklahoma and Tulsa, started playing early in the afternoon, culminating with Edward Sharpe and the Magnetic Zeros headlining the night.
Families laid out blankets and played on the splash pad of Guthrie Green while listening to the music, including Janelle Weaver, who was watching her 2-year-old son, Carl Weaver, play in the water.
"It's a mix of craft beer and music," she said. "Can't go wrong with that."
Many of those taking part in The Hop Jam also participated in the weekend-long Hanson Day, a variety of events put on by the band for fans. The annual event draws thousands of people from around the world.
Sarah Dwyer has attended every Hop Jam and has attended the last three Hanson Day weekends. From Cincinnati, she said the event is a great chance to connect with fellow fans from around the world and the chance to explore Tulsa again.
"It's crazy to think what they're capable of and what we as a fan base are capable of when we come together," Dwyer said.
Her friend, Sarah LaBarre, from Columbus, Ohio, said Hanson Day and The Hop Jam are opportunities for fans of Hanson, music and beer to come together for the same reason: A fun Sunday afternoon in Tulsa.
"A lot of the fans I don't know, but when I come here, they treat me like family," LaBarre said.
This is the first year for Suzany Mota, who made the trip to Tulsa for Hanson Day for the first time this year. And she is in the early running for the fan who traveled the farthest, coming with her husband from Sao Paulo, Brazil.
She's a Hanson superfan, while her husband, Hanrique Lamtin, really enjoys beer. The Hop Jam gives them both a great day to take in a nice afternoon in downtown Tulsa.
"It's like a little town, but very, very beautiful," Mota said. (Sao Paulo has a population of around 11 million.)
"The people are amazing and so nice," Mota added.
The Hop Jam was the culmination of a busy weekend in downtown Tulsa, which included Blue Dome Arts Festival and Tulsa International Mayfest.