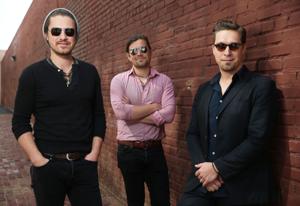 Taylor, Zac and Isaac Hanson will host the third annual The Hop Jam festival in May in the Brady Arts District. TOM GILBERT/Tulsa World
More than 20 bands have already entered the Opening Band Contest for a chance to play at the Hop Jam Beer and Music Festival in May.
The festival is hosted by Tulsa's own Hanson brothers. It is their third year to have the event in the Brady District.
The 2016 Hop Jam will be bigger than ever, with more music and more beer than previous years.
Headlining the 2016 Hop Jam will be indie-folk band Edward Sharpe and the Magnetic Zeros. The lineup will also feature The Strokes guitarist Albert Hammond Jr., alt-rock band X Ambassadors and Tulsa singer-songwriter John Moreland.
Like the previous two years, Hanson and the Tulsa World are hosting an Opening Band Contest, soliciting submissions from Oklahoma bands that want to open the Hop Jam festival.
The event is set for May 22 and admission is once again free. Tickets can be purchased for beer sales, and VIP packages will be available. It will include brewers from 20 states and more than 10 countries, including most if not all of the brewers in Oklahoma.
The Guthrie Green will be incorporated into this year's festival, creating an all-ages family area with kids activities throughout the downtown park.
Of the submissions to the Opening Band Contest, five will be chosen as finalists by Hanson. Voting by the public will commence, and the winning band will open the show on the main stage of the festival. The other four bands will play on the Guthrie Green stage.
Submissions may be made at tulsaworld.com/hopjam. Submissions will close at 11:59 p.m. April 18. Once the finalists are chosen, voting will begin April 25 and close May 6.
Fans will get a preview of the festival with the five bands in the running playing Fassler Hall for the Hop Jam Pub Crawl, set for May 2. More details on the Pub Crawl will be announced.