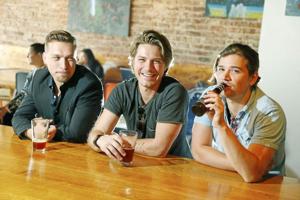 Isaac (left), Taylor and Zac Hanson drink MMMhops pale ale from Hanson Brothers Beer Co. at Chimera Cafe on Tuesday.  TOM GILBERT/Tulsa World
The Hanson brothers recently finished up a national music tour and I am sure they took some time to try plenty of beers during their travels.
Food writer J.M. Hirsch of the Associated Press was able to sit down with the Hanson brothers Isaac, Taylor and Zac and talk beer, not music. Read the story
I think a lot of what the Hanson brothers do is because they enjoy what they are doing. I am the same. They just get to do it on a larger scale.
Traveling the world playing concerts as well as enjoying all the great local beers in the towns where they perform is  something not many people get to do.
They have been doing this for quite a long time in relative terms to their ages. The Hansons know beer and put out "Mmmhops" in 2013. This started up their second passion and business. "Mmmhops" is now available in Oklahoma and 15 other states. I think the only other Oklahoma based beer company to do that is Prairie Artisan Ales, which ships internationally.
I have had the opportunity to sample some of the beers they plan on producing and all of them are tasty and should do great in the market place.
They continue to produce great beer and great music. I purchased their album Anthem last year and have listened to it numerous times especially while running. It gets you going.
I hope the Hanson Brothers continue to produce both great music and beer. I am a fan.