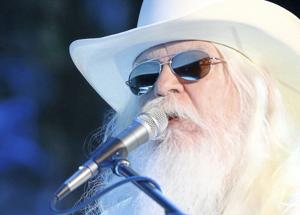 Leon Russell
Leon Russell performs at the Hard Rock Hotel and Casino's The Joint on Aug. 6, 2015. TOM GILBERT/Tulsa World
Following this week's Tulsa premiere of "A Poem is a Naked Person," the 40-years-in-the-making documentary starring Leon Russell, the Rock and Roll Hall of Fame musician and Will Rogers High School graduate entertained hundreds who stuck around for a pair of question-and-answer sessions at Circle Cinema.
The film, shot largely around Grand Lake and Tulsa in 1972-73 and showing Russell and his many musicians and friends in concert and at home, is showing exclusively at the Circle's theater.
The man in the white jacket and hat, matching the color of his long beard and hair, spoke with great emotion and humor on subjects such as his friend Elton John, fires at his longtime Tulsa home and the role that a pair of feet played in stopping his movie from being released long ago.
The night included a nod to Tulsa's Chuck Blackwell, Russell's longtime drummer who was in the crowd, and it concluded with a hug from an audience member as a Tulsa musician from a more recent generation, Taylor Hanson, emerged from his seat to embrace the legend.
Note: "An Evening With Leon Russell," a 30-minute compilation of moments from Russell's visit to Circle Cinema and his question-and-answer sessions, will be playing in the theater's screening room. Admission for this showing is free.
Here are some highlights from that Q-and-A, with questions asked by audience members and moderated by Tulsa World Scene writer Jerry Wofford.
How did you end up making the movie, which started filming in 1972?
"I was in the recording studio one day when my partner showed up (with the idea) of making a movie. I thought I was going to be James Dean, but I turned out to be Jimmy Dean," he said, jokingly, in reference to the singer/breakfast sausage maker.
Can you describe your songwriting process?
"Songwriting was very tough for me. … I would go in and sit and hope for inspiration to come, and it was rarely forthcoming. … I read a book called 'How to Write a Song,' and ever since, well, I could write you a song right now."
How accurate was the film's depiction of your life at that time?
"Mr. Blank (Les Blank, the film's director and legendary documentarian who died in 2013) and I had different ideas about filmmaking style. … I would like to have had 50 seconds more of George Jones in the movie singing, and then maybe we wouldn't have had to have 45 seconds of Jim Franklin's feet" (the painter who paints the floor and walls of Russell's pool, and whose feet are shown for an extended time as he paints).
When will you play Cain's Ballroom again? (Russell was set to play the Joint at Hard Rock Hotel and Casino on Thursday night.)
"All I can tell you is that they pull up my bus (at a venue), and they let me out of my box."
Did the house you owned in the 21st and Peoria area catch fire?
"We had two fires there … in the ballroom, we had guys using steel wool to remove (13 coats) of paint, which exposed these beautiful walnut walls, but one day, between the steel wool and the paint and the wood, you know … then my ex-wife wanted to get a wasp nest down … a guy sprayed some wasp nest remover up there, and then he lit a match, and that burned up the eaves."
Will "A Poem is a Naked Person" be released on DVD?
Harrod Blank, the director's son who worked with Russell to complete the movie, said a DVD release is expected next March, with many extras included.
Is it true that on your song "A Song for You," that you played the bass trumpet?
"Yeah, I was pretty cheap," joked the man known for his piano playing.
It seemed like you crossed that racial divide many years ago (in reference to scenes of music and prayer shot in a 1970s traditional black church in Tulsa).
"I was always a fan of that music … (choking up) I can't really talk about it without crying, and I don't want to do that right now."
Did you have any favorite recording sessions that you played on? (Russell was one of the premier session players in 1960s Los Angeles recording studios)
"Probably my work on a record with Sam Cooke. I think he was the greatest soul singer of his generation."
Why did you pick that location for your Grand Lake recording studio?
"I was up there looking for a place, and the whole peninsula was for sale, and I liked the name, the Pappy Reeves Floating Motel and Cabins. … And it had 12 rooms."
What did the lake people think of you being there?
"I don't think they were crazy about me," Russell said, laughing. "When we were about to leave there, I was about to give the place to Andre Crouch (the renowned gospel singer-songwriter), but he was reluctant about it. I ended up giving it to Oral Roberts University."
(Prior to a second Q-and-A starting, Russell began speaking to the audience about his memories of visiting Circle Cinema in the mid-1950s: "It was kind of a 'ghetto' theater back then," he said of the cinema, which opened in 1928. "I came here to see 'The Girl Can't Help It' and 'Great Balls of Fire,' rock 'n' roll shows."
When is the last time you did not have a beard?
"Now you're asking one of the tough questions. I can't remember what happened yesterday."
Are you still in contact with Gary Busey?
"Well, whenever I can catch him. He's an interesting person," Russell said, to audience laughter. In response to an audience member's recollection of Busey playing drums in concert with Russell at a River Parks show decades ago, Russell spoke of Busey's playing his Teddy Jack Eddy character with Gailard Sartain on the 1970s local TV comedy smash "Mazeppa" program: "I was so enamored of that show that I asked if I could be on it," he said, which happened once. Russell reminded that he named his son, Teddy Jack, after Busey's character.
How long had it been since you had seen this movie?
"I hadn't seen it in 35 years," he said. On the process of working with the director's son to restore the film: "I like Harrod a lot more than his dad. … We had differences. There were a lot of 'characters' in it, and I didn't know they were characters because they were my friends, but they were great characters."
How about writing a book?
"I started writing one time, sitting on a bus. I wrote about 80 pages. … Maybe I'll finish it someday."
Where did you grow up in Tulsa?
"It was northeast Tulsa, the Pine and Harvard area. It was 1598 N. Marion Ave., and I had a bus stop right in front of my house. … There was a lot of (musical) influence from my parents, who played a lot of duet stuff. They didn't get along great, but you know, stuff happens."
(To Harrod Blank) What was it like getting the film finished?
"Dad said, 'I've written Leon letters, he hasn't answered my letters. He's sued me before, he might sue me again,'" Blank said. "My dad was not always a great communicator. He and Leon were in some ways a lot alike."
"Watch yourself there," Russell said to audience laughter, and a smile from Blank.
Tell us about Elton John (who reached out to and collaborated with Russell on their hit 2010 album "The Union").
"I kept thinking somebody would come back and rescue me. Apparently I was a Billboard top touring act of 1973, but nobody told me. … I wasn't good with the press, I didn't know how to do the dance (speaking of his post-1980 years until "The Union"). I kept thinking someone would come and rescue me, and nobody did. Until Elton did."
Tell us about being inducted into the Rock and Roll Hall of Fame.
"From the way I understand it, … Elton John pretty much demanded that I be put in," Russell said. "You don't mess with Elton."
An audience member vying for a turn in the Q-and-A turns out to be Jim Franklin, the pool painter shown in the film.
"There's Jim and his feet," Russell said. "I'm sorry, but I'd still rather see George Jones than your feet."
The evening closes as audience member and Tulsa musician Taylor Hanson is invited down to the podium area by Russell, where they embrace and Hanson sings the praises of Russell, to an ovation.