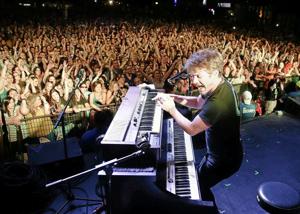 Taylor Hanson performs with the group Hanson at the Hop Jam Beer and Music Festival last year. MIKE SIMONS/Tulsa World file
I've put together a little playlist to get yourself excited about the festival, and it even includes a few of the bands who are up to open the festival this year. The Awesome Opening Band contest is ongoing at tulsaworld.com/awesomemusiccontest, and you can vote once an hour through midnight May 8.
The five bands up for the spot are SocietySociety, The Lukewarm, Skytown, The Lunar Laugh and All About a Bubble. They're all great and would all add to the already impressive lineup that includes Horse Thief, Jamestown Revival, Black Joe Lewis, The Polyphonic Spree and Hanson.
Three of the opening contest bands have music on Spotify, and the other two have new music coming out soon, but you can hear more from them and all the bands at the link above. Go vote!
SocietySociety, "Skyscrapers"
Skytown, "Belly of a Whale"
All About a Bubble, "The Sailor, the Captain"
Jamestown Revival, "Utah"
Hanson, "Give a Little"