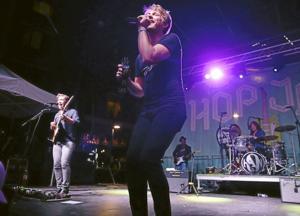 Hanson performs at The Hop Jam May 18, 2014. MIKE SIMONS/Tulsa World
An array of artists and musicians from across the state will take the stage in Oklahoma City next week to welcome Gov. Mary Fallin to her second term.
Set to perform are Hanson, Bixby-native Justin Adams, rockabilly star Wanda Jackson, fiddle champion Byron Berline, renowned violinist Kyle Dillingham, the jazz group Justin Echols Quartet, operatic soprano Leona Mitchell, Comanche flutist Timothy Nevaquaya and the Oklahoma City-based soul and rock band Matt Stansberry & the Romance. There will also be performances by the Oklahoma City Ballet and the Oklahoma City Thunder dance team, the Thunder Girls.
That's a pretty good cross-section of music from across the state. Should make for a great show.
Larry Gatlin will reprise his role as Will Rogers to serve as emcee for the event, set for 7 p.m. Monday in Oklahoma City, according to a release from the governor's office. A small number of invitations to the event are available and an invitation can be requested by emailing 2015okinaugural@gmail.com.