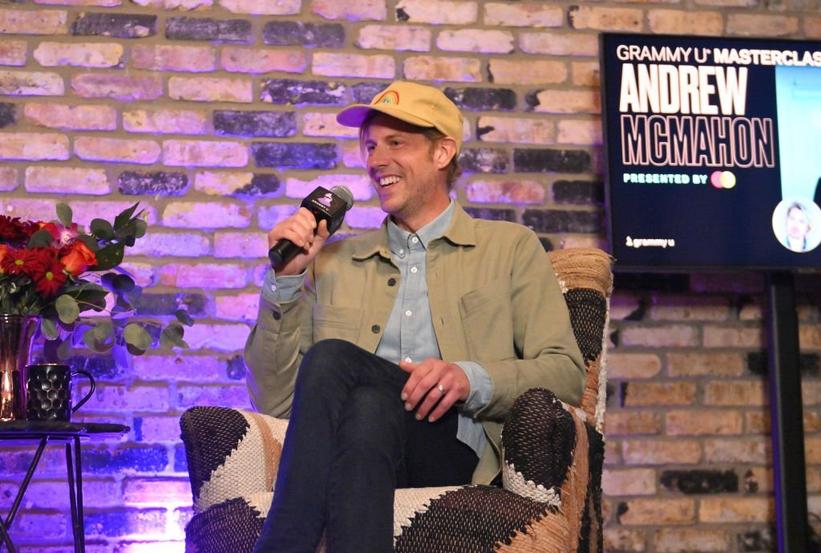 Singer/songwriter Andrew McMahon and moderator Taylor Hanson discussed longevity in the music business, overcoming changes and advice for entering the industry.
GRAMMYS
/
MAR 23, 2023 – 10:29 AM
In an industry as competitive and ever-changing as the music business, longevity is a coveted attribute. Many artists strive to achieve a career that spans decades, but only a select few truly succeed.
During SXSW 2023, GRAMMY U organized a Masterclass for its student representatives with Andrew McMahon of Something Corporate, Jack's Mannequin and Andrew McMahon in the Wilderness. Presented by Mastercard, the event was designed for students and young professionals who want to break into the music industry.
McMahon — who also founded the Dear Jack Foundation in an effort to initiate change and provide support for young adults who have been diagnosed with cancer — spoke with GRAMMY nominee Taylor Hanson, the Recording Academy's Texas Chapter President, about the most important lessons he has learned throughout his varied musical career.  His new album, Tilt At The Wind No More, is out March 31 and his tour begins in May.
Below are his top five pieces of advice for those figuring out how to start and maintain a successful career in music.
Don't Give In To Fear
One of McMahon's crucial lessons was learning how to channel his fear into drive. The songwriter explained how he grew up feeling insecure and shy about his talents, but instead of letting those emotions have a crippling effect, he pushed himself outside his comfort zone.
"If you know something could be good for you, but you're nervous, that's when you have to lean in and say yes," he said.
There are always going to be people who don't believe in you or your vision as an artist, but it is crucial to maintain a positive mindset. McMahon noted that some of the greatest lessons he has learned have come from the people who did not believe in him — yet those doubts simply motivated him to prove his nay-sayers wrong.
Build Life-Long Bonds
The people who have survived the longest in the music business are those who foster long-term relationships, McMahon said. He also noted the value of nurturing existing relationships over finding the next best thing because, "inevitably we all circle back to each other." After all, the stronger a relationship is, the more you can learn from it. "If you don't take care of your relationships, then what's the point," he questioned.
In addition to maintaining creative and working relationships, it is also important to find those relationships socially. Surround yourself with people who support you and your passion. Whether that be friends, family, or mentors, McMahon pointed out that having a support system is necessary for anyone pursuing a career in music.
"[My parents] saw the passion, and they were always very committed to helping me chase that." McMahon described his mom helping him search for producers when he was only 10 years old, allowing him to start creating a demo that he would send out into the world.
Allow Yourself To Evolve
McMahon has never been afraid to embrace change throughout his career. He began as the frontman of Something Corporate and, when the group went on hiatus, he formed Jack's Mannequin to explore a more mature and introspective sound. And when Jack's Mannequin disbanded, McMahon embarked on a solo career that pushed even further into new musical territory.
At the heart of his journey is a willingness to take risks — even when it means departing from what is familiar or comfortable. "It was so important that I made that change because it also gave me the strength to do it again," he said, referencing his shift from Something Corporate to Jack's Mannequin.
Accepting change and stepping into the unknown allows for so many more possibilities to learn and grow, which is one of the many reasons McMahon has managed to maintain relevance and longevity in a notoriously fickle industry.
Use Technology To Your Advantage
"Technology has been a part of my music career from the beginning," McMahon said when asked about its influence on his development as an artist. Though he joked about being one of the first to create a band webpage, McMahon made sure to talk about how social media, does not come naturally to him.
One of McMahon's lessons for the crowd was to embrace social media in a way that feels authentic and organic — whatever it takes to participate in some way. "If you want to compete in any space, whether it's music or otherwise, you better be willing to meet the game where it's at," he said, "[because] the only constant in the music business is that it changes every year."
Social media is about building a community with fans. McMahon pointed out that we live in a time where artists communicate directly with fans, which was not the case not too long ago. The important thing to remember is: "You just, as an artist, have to figure out where you fit and how you can make the greatest impact."
"Be Persistent, Be Relentless"
Before concluding the Masterclass, McMahon challenged students to lean into their passion. The songwriter was upfront about the difficulties of an artistic career, but encouraged audience members to accept that workload and prepare for it.
"This is one of the hardest businesses out there…[but] it's actually one of the greatest industries to work hard in," he said.
In following what really excites you and talking to people who interest you, you will find mentors and strengthen your skills. McMahon's advice was short and sweet: "Be persistent. Be relentless," a phrase certain to fuel the fire of hungry young professionals in music.
The full GRAMMY U Masterclass with Andrew McMahon, presented by Mastercard, is available to stream now. Watch the video to get all of McMahon's advice for a long and successful career in the music business. Click here for more information on GRAMMY U.