It has been almost three decades since Hanson first toured Australia and after the world was shut down for two years, the brothers are excited to be back Down Under.
Isaac, Taylor and Zac first started performing together in the early 90s and broke out internationally with their number one hit 'MMMbop'.
The brothers are now back in Australia for their Red Green Blue tour and told Today Extra they have enjoyed reconnecting with fans.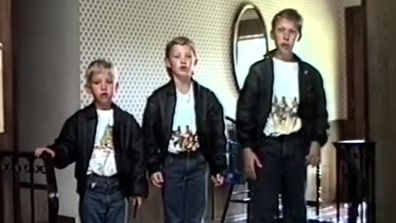 Zac, Taylor and Isaac (L-R) have been performing for 30 years. (Supplied)
"Mostly I think people are just really excited to be back together," Zac told Today Extra.
"We are always trying to put on a really high-energy show, but there's something special about right now. I think it feels like a family reunion."
Taylor said it was nice to connect with people who had been with them since they first started out and also with the new younger generation of fans as well.
"We see people that have been with us for 25 years, since the first time we came to Australia, to people who are literally younger than several records – that's the power of music," Taylor said.
"There's definitely a lot of dedicated fans, that's for sure."