It topped charts everywhere and made the brothers instant superstars. But its success was anything but assured.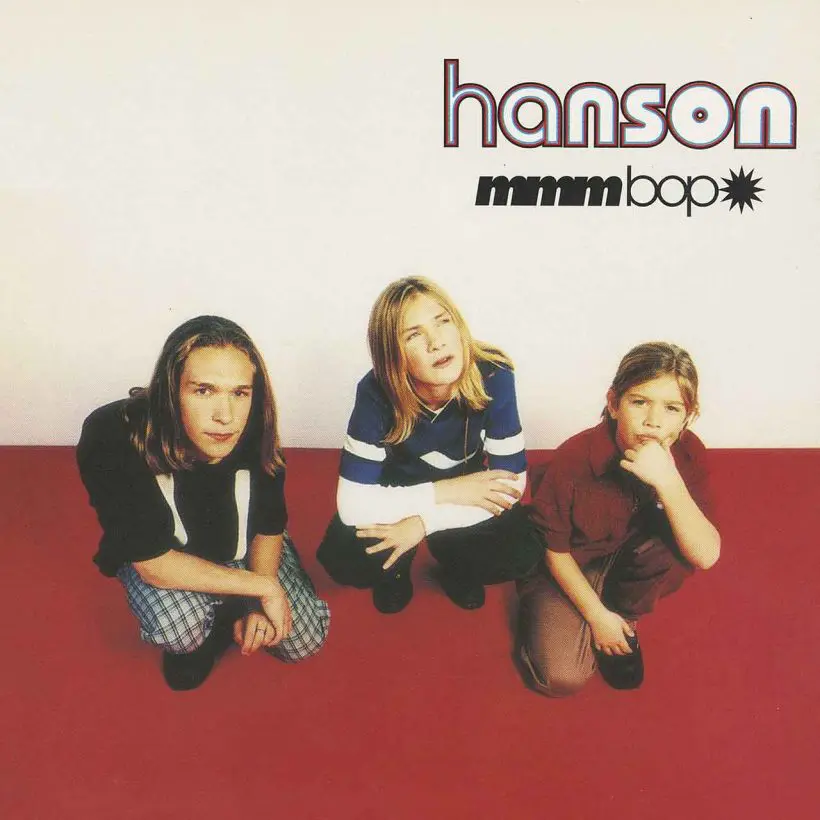 Upon its April 1997 release, Hanson's debut single "MMMBop" was inescapable. The song dominated the airwaves worldwide, a daisy-fresh burst of melody that was even more irresistible thanks to the beaming blonde teenagers behind it. While "MMMBop" was soaring up the international charts, Isaac Hanson was 16, Taylor was 14, and Zac was just 11 years old. Comparisons with family groups The Jackson 5 and The Osmonds were inevitable but, while Hanson evoked the grin-inducing exuberance of the young Jacksons in particular, there was a crucial difference – from the beginning, Hanson wrote their own material and were a working band, despite their tender years.
"MMMBop" was written a couple of years earlier, as Isaac told The Guardian in 2018, "I was 14, and my brothers Taylor and Zac were 12 and 10 respectively. We listened to a lot of doo-wop, which influenced the chorus of 'MMMBop.' We were trying to write a part for another song and came up with this catchy hook, but it didn't really fit. Much, much later, I said to the guys: 'Remember that hook? It really sticks in your head. We need to find a way to use it.' Then, as we were getting ready for bed, we all sang it together in the bathroom."
That hook proved vital to the success of "MMMBop," a chorus so catchy that the existential doubts of the lyrics flew under the radar for most listeners. Isaac later recalled the inspiration for the song, "A few days later, Taylor was sitting at the keyboard with an intense look on his face. 'I have an idea,' he said. 'We can make this song about life – and all the rejection we're feeling.' The lyrics were wise beyond the Hanson brothers' years, considering the importance of maintaining relationships that endure to old age and reflecting on transient friendships ("In an mmm bop they're gone/In an mmm bop they're not there.")
The brothers recorded the song in late 1995 and it became the title track of their second self-released album, which they sold at local gigs. This first recorded version of "MMMBop" was markedly slower than the one that would become an international hit, drawing more attention to the mature lyrics. Considering their age and the resources at their disposal (Isaac would later say it was recorded in a "one-car garage"), this "MMMBop" is impressive, yet it lacks the pop pizzazz that would make them stars.
Mercury Records' Head Of A&R, Steve Greenberg, heard enough in that demo to drive to a county fair in Coffeyville, Kansas, and sign Hanson on the spot. Greenberg set about making "MMMBop" a hit and called on the hot production duo of the time, The Dust Brothers. Before work on the song could be finished, though, Odelay by Beck was released and The Dust Brothers' stock rose exponentially. "MMMBop" fell by the wayside, with only the instrumental framework completed.
Greenberg brought in Black Grape producer Steve Lironi and Mark Hudson (who'd worked with Aerosmith and Ringo Starr) to finish the track. There were also some new issues to deal with: "As we were recording, Taylor's voice was breaking," Greenberg told The Guardian in 2018. "He could barely sing 'MMMBop' in the original key, which I really wanted to keep because it had sounded so exciting."
Nonetheless, the final track bounced where the original had dragged its heels; it was peppy and bittersweet while the original had felt slightly labored. Despite the teething problems, it had enough of The Dust Brothers' fingerprints on it (turntable scratches, drily funky beats) for its pop-country stylings to sound contemporary. The brothers' ebullient vocals were the cherry on top.
"MMMBop" sold in staggering amounts worldwide – the single sold 1.5 million copies in the US, over 750,000 in the UK. It topped charts everywhere and made the brothers instant superstars. Decades later, they're still going strong, even if the key in which they perform "MMMBop" had to be dropped long ago.
Hanson's "MMMBop" appeared on 1999's Now That's What I Call Music! 1, alongside other 90s classics like Spice Girls' "Say You'll Be There" and Cherry Poppin' Daddies's "Zoot Suit Riot." Looking for more stories behind music's biggest hits? Check out the Now! That's What I Call Music page.