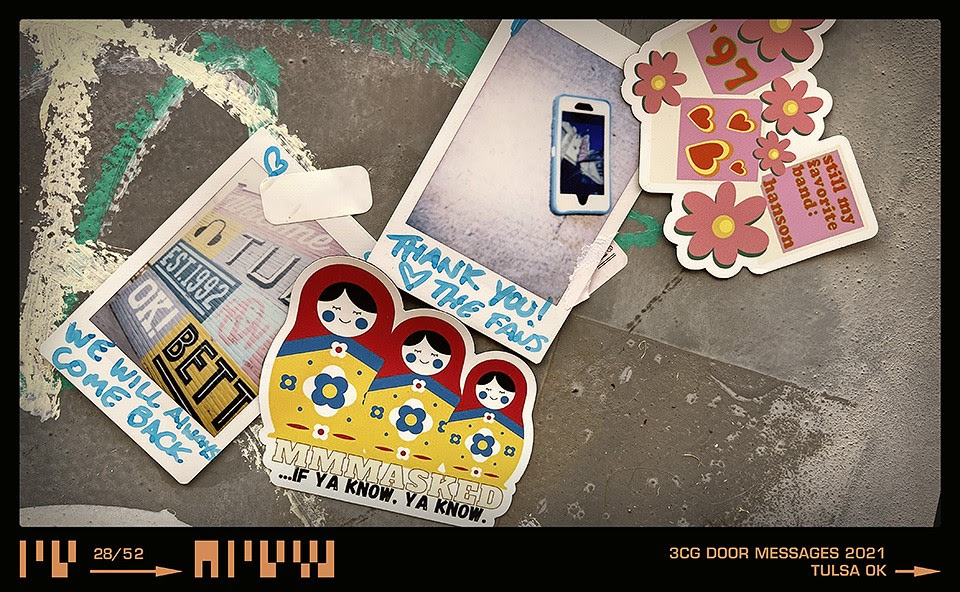 WEEKLY PIC
Signs and letters left at the 3CG office door after the Against The World + shows. Thanks for always supporting us.

MESSAGE FROM THE BAND
It is a tradition to say what you are thankful for around the Thanksgiving holiday. There are so many things we might say, but today we are especially thankful for all of you. So many of you have shared moments with us this past year, in person, online, through messages and posts, and even playing games together. Thank you for making 2021 such a year to remember.
Christmas sweater season is officially open, and with that in mind we created a Christmas music playlist in the hanson.net Media Player. We don't expect you to only listen to Snowed In and Finally It's Christmas from now until December 25th, but we also wanted to make it easy if you do. This year we have been having so much fun adding new profile Pins to Hanson.net, so we have six new holiday themed HNet Pins that are available starting today. They are easy to get if you know where to look. Happy hunting.
We hope you have a great weekend with family and friends. We wish you good food, good company, and great memories.
Isaac, Taylor and Zac
HNET STORE SALE
Check out the HNet Store for sales over this holiday weekend. Offers valid through Nov 29th.

ALL YOU WANT FOR CHRISTMAS PLAYLIST
We've created a holiday playlist now available in the HNet Media Player for you to enjoy during this holiday season.
MEMBERSHIP DISCOUNT
For NEW memberships only – 10% off in the HNet store now through Nov 29th!
FROM US TO YOU GIVEAWAYS
Member Exclusive: Starting this week and going all the way through January, we want to send a big thanks, From Us To You, the Hanson.net community! Each week we will wrap up two mystery gift boxes packed full of goodies, and they will be sent out to two lucky Hanson.net members. No entry needed. Every current Hanson.net members is eligible. Winners will be selected at random and will be announced in the weekly newsletter. This week's winners are:
Wolfykisses
noshiko