We have been busy working on some updates and upgrades to the site! We are happy to announce they are now LIVE!
NOTE! Some accounts may have lost some concerts in their show count.  If you think this is the case with your account you can either: 1) Add them back by going to each of the tour pages by year once you are logged in and clicking the submit/update button OR B) email blog@hansonstage.com with your username and we will try to fix it on our end.  There is a new database and some concerts seem to have gotten left behind (mostly in 2010, 2011 and 2017) and while we have tried to make sure all accounts are accurate, some may have slipped through the cracks.
You can now add "virtual" shows to your show count list.  Currently this includes Isaac's Quaranstreams from earlier in the year and Taylor's 3 "Home Jams".  Once they happen, the Live Streaming Tour will also be included.  Each live streaming show will have 2 entries – one for "In Person" and one for the stream.  In person selections will add songs to your "songs heard live count" and "stream" selections will add the songs to your "virtual" count.  We have no plans to retroactively add any livestreams to the database at this time but since 2020 has been such a strange year and memories fade we thought adding these shows may help with the "but wait, didn't I hear Isaac sing ___?" in the future.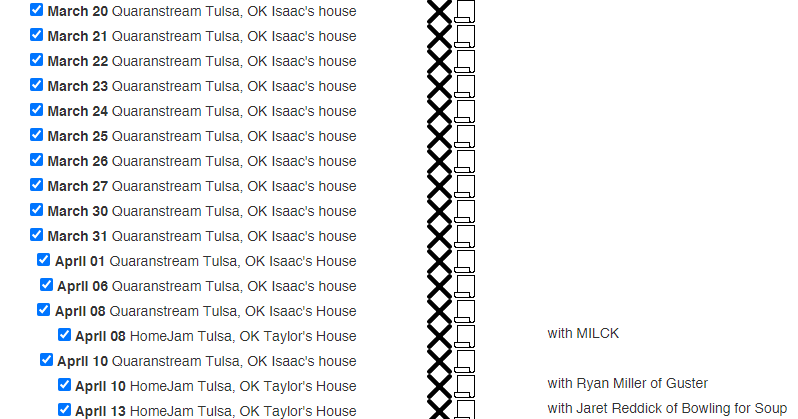 The header has a new look and the orange/gray/black theme continues throughout the site
Rather than one large list of every concert ever, each year allows you to view all the tour dates and add to your list.  As always, you can't add to your list until the show has passed. You must be logged in to your account to access the functions of saving shows and to see your song list.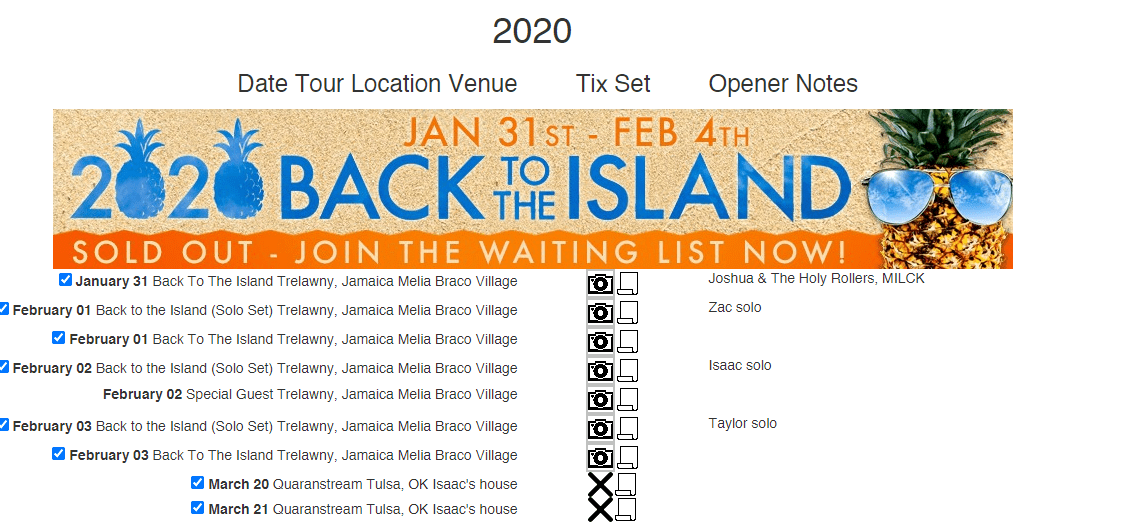 Tour history has been tweaked to now take into account canceled shows
Every time the song has been performed live will have a musical note icon if you are logged in and you attended that show
The by location maps are up and running for desktop and a list of locations for mobile
There is now a form to submit a setlist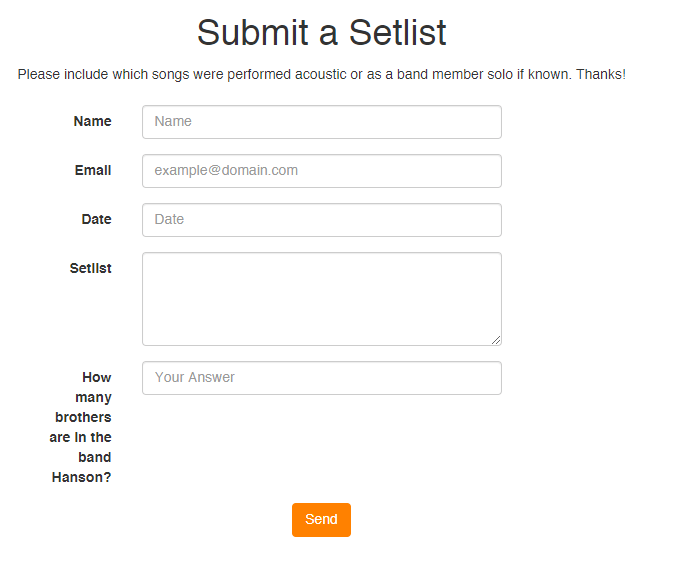 There is now a form to upload tickets
Shows by state, province, country will now show a musical note icon if you are logged in and attended that show
Tour listings now also include a link to their corresponding page on hanson.net
Canceled shows will now have a separate setlist icon to see any show details we may have (tickets, reason for cancel, etc.)

There is now a list of songs played live in order of number of times AND a list in alphabetical order. These pages still need some tweaking to take mashups/medleys into account, but otherwise should be accurate.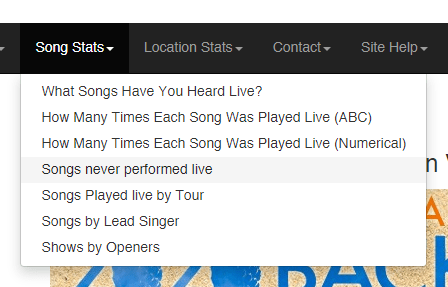 We have added a virtual tip jar if you like what we're doing and want to support increasing hosting fees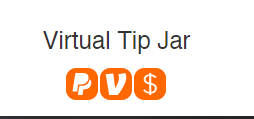 Overall the site has been made more secure
(As with all new releases, there may be some glitches.  If anything seems to be off, please email blog@hansonstage.com and let us know what doesn't seem to be working and what web browser you are using and any other relevant information!)
We still have some more items on the "wish list" and are always working to add new content to the site! If there's anything you'd like to see, please leave a comment and we will try our best to make it happen!