If you haven't been living under a rock since 2016, then chances are you've heard the song 'Baby Shark'. It's hard to miss — the annoyingly catchy nursery rhyme-like dance video has had more than 2.4 billion views on YouTube since it was released three years ago.
Some have said that the song is just as infectious as 'MMMBop', the pop anthem from '90s boy band Hanson. So catchy are both tunes that it's been widely speculated that 'Baby Shark' is a direct rip-off of the 1997 hit.
So what do brothers Isaac Hanson, Taylor Hanson and Zac Hanson think about this?
After trying to be diplomatic about it by saying the similarities are down to the "chords moving in the same structure," the band then buckled and said they too could hear the likeness.
"Screw this guys, we're suing them right now!" the boys joked during their interview with hit105's Stav, Abby and Matt. "Not only is it the same core pattern, but they're talking about the same thing.
"If you listen to the lyrics in 'MMMBop' it says, 'You have so many sharks in your life, only one or two will last,'" they said. "There's his Mama shark and Daddy shark and Baby shark and Grandpa shark. And in 'MMMBop' you're hungry again and you eat a surfer. Same topic, oh my god."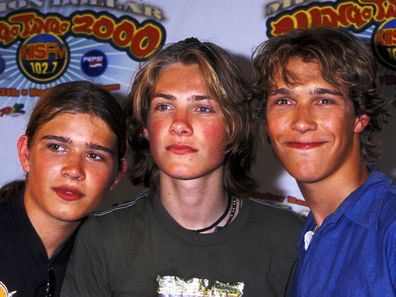 But it seems Hanson were more than happy to let this slide because this week they were busy performing their String Theory Project shows at the Sydney Opera House. Accompanied by an orchestra, the band reinterpreted their hits into orchestral pieces.
"Musicians who really love music want to do a symphony show," Isaac told The Daily Telegraph prior to their first concert on Monday. "There are a lot of safer choices than the ones we've made — we love great pop music, yet we've made a lot of anti-pop decisions about our career."
Well, now that they've gone classical, the pop floor is all yours, Baby Shark. As you were…