Orlando Weekly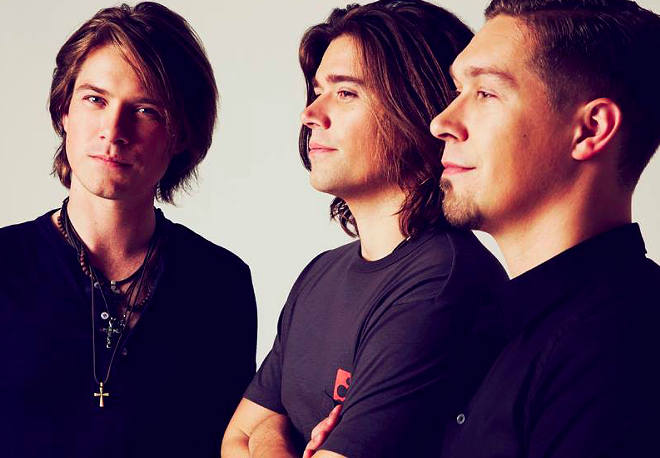 Photo via Hanson/Facebook
Despite the efforts of an online petition and a special protest cake, Hanson and SeaWorld, two things that have been consistently panned by critics for years, will join forces for a concert in Orlando this afternoon.
Hanson, the band that wrote "MmmBop" nearly 20 years ago, has gotten quite a bit of flack for not canceling today's show. Along with the protest cake, which was sent to their studio office and featured a little orca made of frosting, an online petition also made the rounds, gathering more than 4o thousand signatures.
"After hearing this and finding out how SeaWorld neglects and mistreats animals in its care, numerous bands have decided to cancel their appearances. Please do the same and move this show to a different venue. Your fanbase will support your decision and respect you for it," reads the petition.
Hanson supporters and PETA protesters are expected to be at today's performance with signs that read "Shout It Out: SeaWorld Kills," a reference to the band's album from 2010.
"Hanson's loyal fans who care about animals would follow Isaac, Taylor, and Zac just about anywhere—except SeaWorld, where orcas are kept inside tiny concrete tanks and denied everything that's natural and important to them," said PETA Associate Director of Youth Campaigns Rachelle Owen, a Hanson super-fan who helped to organize outreach efforts to the band.
While Hanson still maintains a very hardcore fanbase, it's difficult to distinguish if the outrage is coming mostly from PETA, or from diehard Hanson fans who also passionately hate SeaWorld. I guess we'll find out.
Hanson is expected to perform at the Seven Seas Festival at SeaWorld at 5 p.m.
UPDATE:
Lori Cherry, Public Relations Director for SeaWorld, sent over the following statement regarding the petition and today's planned protest. "SeaWorld does not mistreat animals in anyway. The claims in this petition are false. To the contrary, our veterinarians, zoologists, marine biologists and other animal care specialists treat every single animal with love, compassion and the highest standards of care. In addition, our team has rescued more than 31,000 animals. Each ticket, each visit, each experience at our parks helps fund wildlife rescue and rehabilitation efforts, habitat protections and ocean health initiatives."