Mention that you're going to a Hanson concert and you hear, "You mean those 'MMMBop' kids?" Yes! I mean those "MMMbop" kids! They are not kids anymore. Now in their 30s, they are celebrating 25 years on the road- they still make and play music and have a very loyal fanbase. This was obvious from the sold out crowd at the Fillmore in Philadelphia.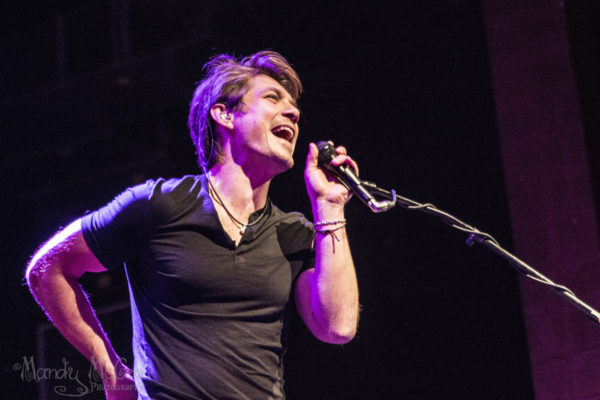 In 1992 with Isaac on guitar, Taylor on lead vocals and piano, and Zac on drums, the Hanson brothers took the stage at Tulsa's Mayfest and sang several songs a cappella. They were ages 11, 9, and 6, respectively. In 1997 they released Middle of Nowhere, putting them in the hearts of millions of (mostly) young girls. At age 15, I was one of those girls screaming in the crowds of their shows, watching everything on TV about them and postering my walls with the faces of these heart throb brothers. Hanson is still going strong, even after creating their own record label, 3 Car Garage Records, and taking the plunge of indie label life.
This past Thursday, September 28th, Hanson took the stage at the Fillmore. There were no openers and the trio played relentlessly for about two hours- a perfect 25th anniversary gift for fans. This show would mark my 38th time seeing them, which is the most times I have ever seen a band. Zac took the stage first, followed by Issac, and then Taylor. They immediately rolled right into the song "Already Home" from 2013's Anthem and the 2500 capacity venue screamed in happiness. There was top notch energy for a good portion of the beginning of the show with other hits like their second single in 1998 "Where's the Love", the Ray Charles-esque "Thinking 'Bout Somethin'" from 2010, and their ode to Marilyn Monroe, "This Time Around", from the 2000 album of the same title. Out of the 28 songs they played, songs from Middle of Nowhere were featured the most, including songs like "Look At You", "Weird", "Madeline" (my personal favorite), and of course the tune with sweet melodies that made them popular, "MMMBop".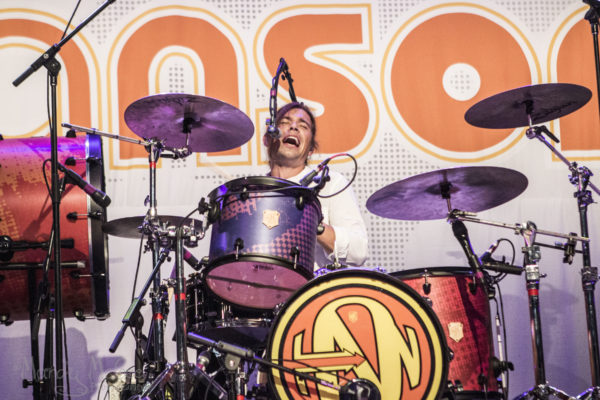 Hanson ran through the mighty setlist of some of their catchy pop tunes with a solid audio mix. They brought attention to their full-bodied vocal harmonies and the small differences between tracks. Other songs that really rocked the house were the pop-soul number "Get the Girl Back", the love-sick ballad "Save Me", and the swinging rock song "Hey" where Taylor gets the audience to yell Hey! along with him on the chorus. Taylor is very good at getting the audience to participate in the show. They follow along with the jumping he does on parts of "If Only", the arm circling during the lyrics '…it goes round and round and round" in "Where's the Love", and the clapping during "Shout It Out". Better yet, almost everyone in the place was singing along to every song. It's also undeniable that the crowd loved every second Zac was singing because there was an incredible roar during his songs.
Throughout the show, Taylor thanked the crowd sincerely for sticking by them on their journey. He dedicated their newest single "I Was Born" to those who were made fun of for liking Hanson. "This song is about who you wanted to be, before you had that job you have — before all the shit you have to deal with, and for those who got shit for liking Hanson," he said.
In my many years of seeing this band, they have never disappointed in giving fun and stunning performances. I have never seen two shows the same. They switched things up by playing some songs acoustically like for "On and On" and then traded instruments on "Juliet" where drummer Zac sang and played piano and Taylor hopped onto the drums. As a tribute to the band's earliest days, even pre-instruments, Hanson performed a tight a cappella version of "Rockin' Robin." The tributes weren't over either, as they then fired off a hat tip to Chuck Berry with "Johnny B. Goode" and closing the night out with another high energy song "Lost Without Each Other".
Frankly, I am very proud of these guys and amazed as a fan who has grown up along with them through their career. Hanson has shown an incredible amount of growth, diversity and talent in their 25 years as a band. Even though they don't have the same size crowds as when that first national album dropped, they have fought through the pains of high end record labels to figuring out how to survive on their own. Not only as multi talented musicians, but also as business people while continuing to please loyal fans and gaining new ones along the way.
They are always doing special events even when they are not touring. Hanson Day weekend in their hometown of Tulsa, OK caters to fan club members. At Back to the Island, you spend a week with Hanson on a Jamaican Island. So even if you miss out on the tour, there are many other ways to spend time with these creatively accomplished men. The band's music is unapologetically old school classic rock made safe, smooth, and satisfying – like a sonic comfort blanket.
The set list:
Already Home
Waiting For This
Where's The Love
Look At You
Tragic Symphony
Thinking 'Bout Somethin'
Been There Before
This Time Around
Weird
Go
Madeline
Juliet
Strong Enough To Break
Penny and Me
Watch Over Me
Save Me
On and On
I Was Born
A Minute Without You
Get The Girl Back
Hey
MMMBop
If Only
Fired Up
In The City
Encore:
Rockin Robin
Johnny B Goode
Lost Without Each Other