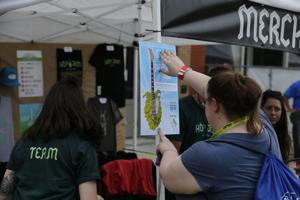 A poster showing The Hop Jam guitar that someone will win in a raffle is hung during as The Hop Jam festival kicks off in the Brady Arts District. TOM GILBERT/Tulsa World
Crowds are streaming into The Hop Jam as the beer and music festival opens Sunday afternoon.
Thousands are expected to spend the afternoon in the Brady Arts District listening to music from local and national acts into the night. The festival, organized and curated by Tulsa-natives Hanson, is free to attend and beer purchases can be made on site.
Two stages will feature music starting at 3 p.m. Sunday, one at Guthrie Green with all local acts that topped the Tulsa World Opening Band Contest: Groucho, Nicnos, Nightingale, The Young Vines and Sam Westhoff.
The winner of the contest, RVRB, will open the concert on the Main Stage, followed by Chase Kerby + The Villans, John Moreland — both acts from Oklahoma — followed by X Ambassadors, Albert Hammond Jr. and Edward Sharpe & the Magnetic Zeros to headline the night.
Beer from more than 60 brewers is also featured at the festival. Visitors attending the beer portion must be 21 to enter.
Follow along with coverage from the festival at facebook.com/tulsaworldscene, on Twitter at twitter.com/twscene or twitter.com/jerrywofford.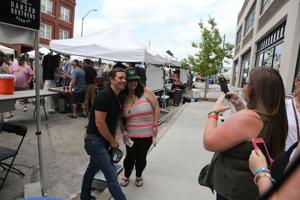 Zac Hanson poses with fans during The Hop Jam in the Brady Arts District.  TOM GILBERT/Tulsa World