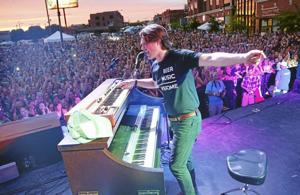 Taylor Hanson and his brothers perform during The Hop Jam in the Brady Arts District last year 2015. TOM GILBERT/Tulsa World
Tulsa-based band RVRB is set to open The Hop Jam Music and Beer Festival's main stage, with five bands selected to fill Guthrie Green with music on May 22.
RVRB will kick off the day's music on the Main Stage with music at 3 p.m. May 22. New this year, the runner-ups in the Tulsa World Opening Band Contest will play all day on Guthrie Green. Those bands are Groucho, Nightingale, Nicnos, The Young Vines and Sam Westhoff.
The acts are all the top vote getters in the contest, which ended voting Friday. There were 70 bands from across the state that entered the contest. That number was narrowed to 12 by Hanson, and the final six were selected by fans. More than 5,000 votes were cast in the contest.
All music during The Hop Jam is free. After RVRB kicks off music on the main stage, the festival will feature music from Chase Kerby & the Villains, John Moreland, X Ambassadors, Albert Hammond Jr. and Edward Sharpe and the Magnetic Zeros.
RVRB formed recently with their first live show this year. Led by Cameron Mitchell, the band is made up of Nick Livingston, Josh Kluge, Ben Blount and Daniel Jones. An EP, "Faded," was released last year.
The Hop Jam is free to attend for the music festival, with special packages for early access to the beer festival side. Packages start at $35 with $150 for the Craft Beer VIP ticket. More information about tickets and the festival is at thehopjam.com. A music VIP ticket is also available for access to air conditioning and concert seating.
The Hop Jam was established by Hanson in 2014 and expanded to include more beer and music each year. More than 20 brewers are expected to attend this year.
Hanson will also be selling raffle tickets to win a custom-made guitar shaped like a hop, created in Tulsa's Fab Lab with proceeds benefiting the Community Food Bank of Eastern Oklahoma.