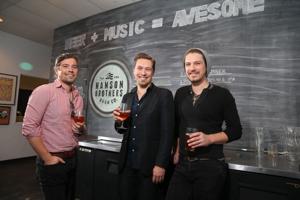 Zac, Isaac, and Taylor Hanson in their office to promote Hop Jam. TOM GILBERT/Tulsa World
The brothers of Hanson are looking forward to a different experience this year at their third Hop Jam Beer and Music Festival.
It will be the first year that Hanson is not headlining its event. The 2016 Hop Jam will be bigger than ever, with more music and more beer than previous years, but the Hanson brothers will be watching from the audience.
"It's like this: It's not an annual Hanson show. It's an annual Hanson party," said Zac Hanson last week from their studio in the Brady Arts District. "That means we want to take the stage a lot, but we want to be able to mix it up and add variety. You don't want people to take it for granted. New beer, new bands, bigger footprint."
Headlining the 2016 Hop Jam will be indie folk band Edward Sharpe and the Magnetic Zeros. The lineup will also feature The Strokes guitarist Albert Hammond Jr., alt rock band X Ambassadors and Tulsa singer-songwriter John Moreland.
Like the previous two years, Hanson and the Tulsa World will host an Opening Band Contest, soliciting submissions from Oklahoma bands that want to open the Hop Jam festival.
The event is set for May 22 in the Brady Arts District. Admission is once again free. Tickets can be purchased for beer sales, and VIP packages will be available.
And speaking of beer, this year will see the number of brewers more than tripled from the first event.
"We had 15 breweries the first year. We'll have 60 this year," Taylor Hanson said.
It will include brewers from 20 states and more than 10 countries, including most if not all of the brewers in Oklahoma.
Last year's festival saw the beer section, limited to those age 21 and older, expand north on Main Street past Cameron Street. But this year, the festival is expanding east.
The Guthrie Green will be incorporated into this year's festival, creating an all-ages family area with kids activities throughout the downtown park.
It will also be a place to hear even more live, local music. Of the submissions to the Opening Band Contest, which is now open, five will be chosen as finalists by Hanson. Voting by the public will commence, and the winning band will open the show on the main stage of the festival. The other four bands will play on the Guthrie Green stage.
"If you're one of the top bands, you're going to play the festival," Taylor Hanson said. "There will be a real balance between set changeover so people can catch more shows throughout the day."
Submissions may be made starting at 9 a.m. Monday at tulsaworld.com/hopjam. Submissions will close at 11:59 p.m. April 18. Once the finalists are chosen, voting will begin April 25 and close May 6.
Fans will get a preview of the festival with the five bands in the running will play Fassler Hall for the Hop Jam Pub Crawl, set for May 2. More details on the Pub Crawl will be announced.
As Hanson steps aside this year, the band hopes to lay the groundwork for future Hop Jam festivals where the band is not the headline attraction, but still plays a big role in putting on a festival that reaches a broad audience.
"The thing we're building is not Hanson, it's not Edward Sharpe, it's not Robert Randolph. It's Hop Jam," Taylor Hanson said.
"The first reason that you're going is because you know that event is at a quality level and you're going to go. It's still a one-day event. It's a tight group of really engaging performers. They're a part of something … the whole is greater than the sum of the parts."
2016 Hop Jam headliners

Edward Sharpe and the Magnetic Zeros

"A fun experience of musical collision. It's chaos and creation in the backyard," Isaac Hanson said about the band.

Albert Hammond Jr.

Indie rock guitarist and keyboard player for The Strokes. Hammond has released three solo albums.

X Ambassadors

"It's really great energy. It's a combination of a little more modern flair to their sound," Taylor Hanson said of the band.

John Moreland

"He's bringing the local aspect on that level, someone who is on their way up but is a local artist. It's a great calling card," Isaac Hanson said.
Festival

2016 Hop Jam Beer and Music Festival

When: May 22

Where: Brady Arts District

Cost: Free, with VIP packages available.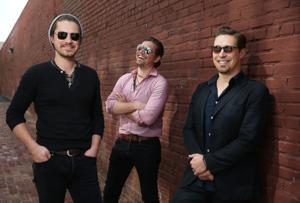 Taylor, Zac and Isaac Hanson promote Hop Jam, which is slated for May 22. TOM GILBERT/Tulsa World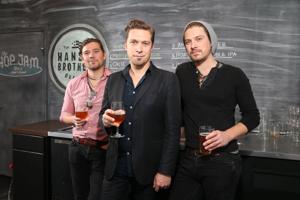 Zac (left), Isaac, and Taylor Hanson are looking forward to hosting the third Hop Jam Beer and Music Festival on May 22. TOM GILBERT/Tulsa World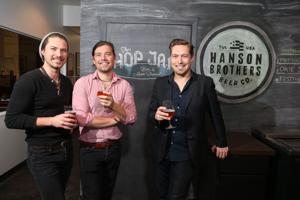 Taylor, Zac and Isaac Hanson are looking forward to the third Hop Jam music and beer festival in Tulsa. TOM GILBERT/Tulsa World