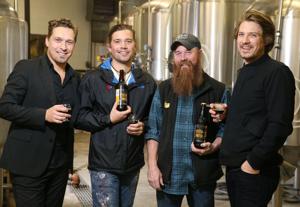 5 images
TOM GILBERT
Isaac Hanson (left), Zac Hanson, Mason Beecroft and Taylor Hanson pose with their new beer at Dead Armadillo Brewery Co.'s brewhouse at 1004 E. Fourth St. on Monday. Hanson Brothers Beer Co. and Dead Armadillo Brewing Co. have teamed up with a collaboration beer called Inland Porter, named after Tulsa's Port of Catoosa. TOM GILBERT/Tulsa World
Beer brings a lot of people together, even rock stars and former Lutheran pastors.
Hanson Brothers Beer Co. and Dead Armadillo Brewing Co. are teaming up for a beer that will be on store shelves by the end of this week.
The Hanson brothers have sold millions of records and started a beer company because they are passionate about craft beer. The same is true of Dead Armadillo's brewmaster Mason Beecroft. The former Lutheran pastor turned brewmaster knows his beers.
The collaboration between the companies means one thing for consumers: great craft beers. The beer they came up with is called Inland Porter, named after Tulsa's Port of Catoosa, the most inland river port in the United States.
"Really the collaboration started with saying, 'How can we start brewing with these guys? How can we bring in some more beer?'" Taylor Hanson said.
"The next conversation was let's do something together. It's a way of saying hey we are brewing together, we're working together, we are both proud of Tulsa. This beer was born out of those conversations," Hanson said.
There is a reason they chose a porter for their collaboration brew.
"I have a special affection for porters; it was the first beer that turned me on to craft beer," Beecroft said. "It's an American version of a traditional English session beer that comes in a 6.5 percent alcohol by volume. I think it hit the mark for being a nice seasonable porter."
Isaac Hanson has another way of knowing if a beer is a hit. "My wife said, 'You are going to make a dark beer?' Then I poured it for her and she went, 'Oh, pour me another.' That is a good problem to have," he said.
This limited-release beer is scheduled to be shipped out this week and should be in liquor stores soon. But there is another way to try it. The Hansons and Dead Armadillo crew will be at Fassler Hall, 304 S. Elgin Ave., on March 21 for a pint night to celebrate Inland Porter, and on March 22 in Oklahoma City's Fassler Hall, 421 N.W. 10th St., they will do it again.
If you don't get to the liquor store or to Fassler Hall, you will have other opportunities to try some beers from the collaboration. Both companies plan on more collaboration beers in the future.
"We are excited for people to just try it. With Hanson Brothers, we are going to start introducing a lot of seasonable beers and are really excited about turning people on to new flavors. This is just a little bit of a taste of that from us and the Dead Armadillo guys," Taylor Hanson said.