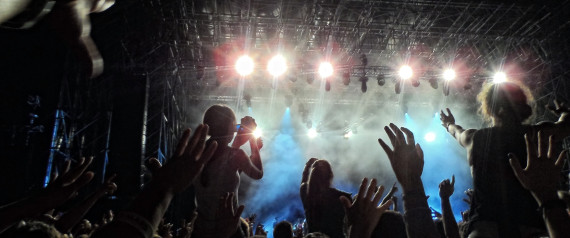 As a child growing up in the 90s, I recall heated debates with my friends in the playground over which boy band was our favourite. While the conclusion almost always ended up being either Backstreet Boys or Nsync, my answer was different. I pledged my allegiance to Hanson. Every inch of my wall from floor to ceiling was covered with magazine cut-outs of brothers Isaac, Taylor and Zac.
The first concert I ever attended was at the Molson Canadian Amphitheatre in the summer of 1998. Hanson was making their Toronto debut as part of the band's inaugural Albertane tour. Like all fan girls, I proudly memorized every song on that neon orange Middle of Nowhere CD and can still recall the lyrics to this day.
Once Isaac, Taylor and Zac finally took their positions under the famous amphitheatre roof, I was eagerly anticipating the notes of the first track. To my surprise, Hanson opened up with Spencer Davis' Gimme Some Lovin'. Not knowing at the time that bands often play covers, I was shocked that Hanson didn't immediately start playing track number one, Thinking of You, from the Middle of Nowhere album.
Fast forward two decades. Hanson is currently gearing up to embark on their 13th tour. Isaac, 34, Taylor, 32, and Zac Hanson, 29, are industry veterans with over six studio albums under their belts. The Tulsa, OK natives continue to have a dedicated fan base.
I find that Hanson's music has always had a different sound from the cookie-cutter, heavily auto-tuned pop bands. Since opening up with Spencer Davis' Gimme Some Lovin' in '98, it is evident that Hanson has largely been inspired by Motown, 50s and 60s genres. Last month, Rolling Stone magazine released a list of the 50 greatest boy band songs of all time. Despite Hanson's chart topping popularity, they did not make the cut. Rolling Stone explained Hanson's exemption in the opening paragraph claiming that the boys, "kept it too real."
Going into their 23rd year, Hanson continues to keep it real and finds outlets that challenge them artistically. They opened up two shows for Grammy-nominated artist Ed Sheeran earlier this year after meeting him at a local fair in Tulsa, OK. This year Hanson also released collaborations both with Owl City and Blues Traveler.
"You allow yourself to meld with what they're doing and try and find how you can benefit. You have to be true to yourself and still represent Hanson but, like anything, there's a collection of work that you're contributing to. Let yourself be a producer and do something different," said Zac in a recent phone interview.
This October, Hanson will be embracing their influences and heading out on the appropriately titled Roots and Rock 'N Roll tour. A five-track digital EP of the same name was recently released which includes Ed Sheeran, Sly and the Family Stone, and Michael Jackson covers. The tour is unique in the sense that it is a two-night concert event. The first night will cover a large catalogue of songs from bands that inspired Hanson such as Billy Joel and Paul Simon. The first night also includes a bonus after party DJ set with Taylor.
"As a fan there's always songs you're going to want to hear from your favourite artists," explains Zac. "It's about trying to find a balance between the expected and unexpected. As an artist and creator you change it up each night which allows us to continue to explore the catalogue of music."
Bands like Cream, Traffic, will be highlighted during the rock and roll portion. Evening number two will consist of Hanson songs which are sure to be crowd-pleasers.Hanson always looks forward to performing in Canada. I remember attending the sold-out 1998 concert when the boys broke the Guinness World Record in Toronto for the loudest crowd at a concert, reaching 140 decibels. "Canadians are loud and that continues to be something that's true," recalls Zac. "I noticed how comfortable and similar Canada feels to the United States. There's a good kinship and we get a great response from fans."
I have grown up along with the Hanson boys, who are now all married with children. But some things never change. My iTunes library contains the complete Hanson discography and my friends still argue over who was the best '90s boy band.
A limited number of tickets are still available for the Roots and Rock 'N Roll tour taking place at the Phoenix Concert Theatre in Toronto, ON, on Saturday, Oct. 10, and Sunday, Oct. 11, 2015. For more details visit Hanson.net.