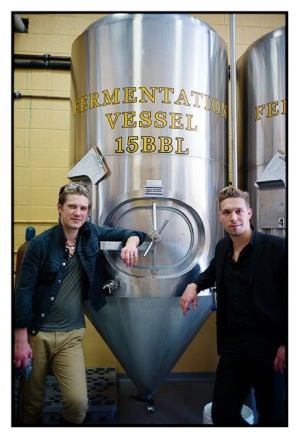 Taylor, left, and Issac Hanson pose in a brewery. The band's latest business venture is making beer.
Taylor Hanson sees the beer he and his brothers have launched as an example of their music career to a degree.
After massive hits in the 1990s, the band has continued to produce good music that more importantly reflects their identity, their home and their work creating something new, Hanson said.
"One of the things that is great about beer culture right now is the boom that has developed in the last 20 years of just people identifying with craft beers," Hanson told the Tulsa World in a recent interview. "One of the things that is particularly cool about it is really taking an industry that's been driven by really huge marketing dollars and taking it back down to this artisanal spirit and really building relationships with your audience."
Plus, they just really like beer.
Oklahomans can get at taste of the Hanson beer, Mmmhops, which is now available at most liquor retailers in Tulsa, Oklahoma City and at many more stores and bars across the state soon.
It took several years to get the project off the ground, from the first idea to determining what kind of beer they wanted to make to who would actually make it.
What came out was a pale ale-style beer with a hoppy flavor and full body, Hanson said.
"The way we developed the beer was to start with this huge list of references of beers that we admire, reverse engineer them," Hanson said. "And a little bit of drinking."
Mustang Brewing in Oklahoma City produces the beer. Working with them was a great experience, Hanson said, talking about what they wanted and how to achieve that end.
"We began meeting other brewers and began learning how to talk shop and understand what goes into this whole process," Hanson said. "We were really excited when we finally met Mustang. What's interesting about Mustang guys is they've done some brewing for smaller brewing companies but they really have a spirit of wanting to try things, wanting to step in there and experiment."
Hanson said they wanted to sort of pay homage to other craft beers they have enjoyed like Sierra Nevada, a craft beer from California with widespread popularity. But Mmmhops has less of the bitterness of Sierra Nevada's Pale Ale and more of the alcohol, Hanson said.
It's received good response in the releases so far, Hanson said. While touring liquor stores around the state to thank them for carrying it, Hanson said that they heard many stories of people who were coming up and asking how to get the beer.
Like the other business ventures the Hanson brothers have undertaken, this came from their passion.
"We've had side endeavours that have surrounded music, whether it's starting a new record company or really running the web and merchandise operation," Hanson said. "The thing about our business is it's really about our identity, what we care about. We try to share as much of that as possible with people as a way to increase the connection to what it is we do with music. Ultimately this is a thing that has to stand on its own, but it still comes out of the same vision."
The beer's reach will continue to spread as they get more people to pick it up, Hanson said.
On Tuesday, Hanson plans to be at Leon's, 3301 S. Peoria Ave. in Brookside, between about 6 and 8 p.m. to celebrate Mmmhops being Leon's beer special of the month.
In the next year, Hanson said they want to create small-batch brews and expand their brand, adding an India Pale Ale and possibly an Oktoberfest-style beer.
But the anchor is Mmmhops. Hanson said they hope the beer's popularity will spread from coast to coast, but they don't want it to lose touch with its Oklahoma roots.