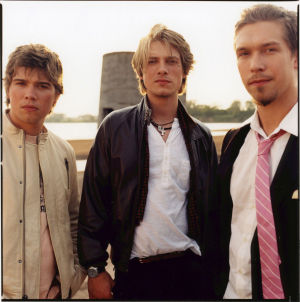 PR Newswire
You're standing in a crowded room when the lights cut out leaving you in complete darkness and the room lets out a wail of blood curdling screams that instantly deafens your senses.
You aren't in the latest slasher flick preparing for your imminent death, but you are at a Hanson show in the year 2013 and so much has changed since their Middle Of Nowehere [sic] release in 1997 when Mmmbop ruled the airwaves.
Most people don't realize that Hanson is still a thing, but with a packed house in Richmond at The National on Wednesday night they are proving that even with 21 years of being a band and 11 albums released they are still around and better than ever.
The show had its ups and downs: remarkable vocals, great stage presence, an entertaining mix of old nostalgic favorites and new hits off their 2013 release, Anthem.
Unfortunately, in true Richmond style, there were a few people in the crowd determined to make sure everyone around them knew they were there. From the drunk girl who would scream to the point of choking every few minutes while spilling her beer all over your sister's foot, to one woman who decided that while Zac Hanson was in the middle of a quiet, beautiful solo set she would scream "I wanna lick your [bleep]" causing Zac to stop mid song and refer to her as a "drunk b*tch" and suggest she go home.
"Drunk b*tches" aside, the Hanson brothers can sing and they sure as hell know how to write songs and put on a show. Their albums and the precision with which they put them together grows every year.
If you still think the only thing they've attributed to the music industry is Mmmbop, then I suggest you log into Rdio, Spotify, YouTube or iTunes and do yourself a favor and listen to some of their more current songs, specifically their 2010 release, Shout It Out, which is rich and full of jazz inspired upbeat tracks and ballads that will break the strongest of hearts.
Hopefully the brother will visit Richmond again and you can see for yourself what you've been missing over the years. And drunk bitches, stay home next time.
Jessi Coble is a Richmond native who is an advocate for the local music scene. An avid concert and music festival attendant, Jessi loves to find and experience the newest and most innovative bands to "Pom Pom." Her daily rants and mishaps can be found on Twitter @JessiRVA.