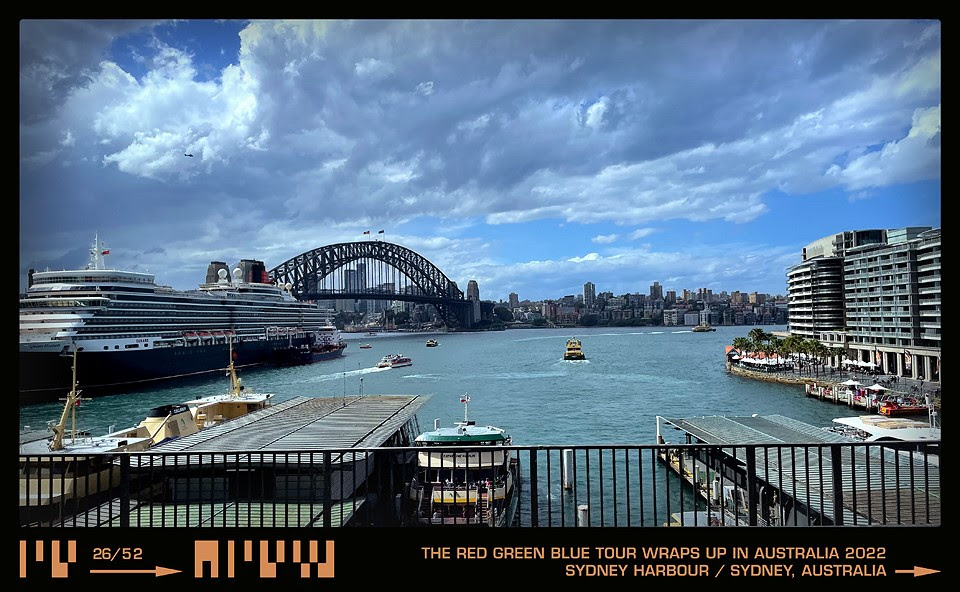 WEEKLY PIC
This week we will conclude an amazing tour of Australia and New Zealand and it did not disappoint. We can't imagine a better way to to complete the amazing 100+ concerts this year with this run down under.
MESSAGE FROM THE BAND
It is hard to express how powerful these past five months have been for all of us. Night after night, country after country, we have been reminded in so many different ways that the joy we have received making music all these years, has also been received in a million different ways by so many of you. I don't even want to say it, but today is our final Australian concert. Tonight, we will be wishing Isaac a Happy 42nd birthday and playing our second show in Melbourne, and our final show in Australia. It is so bittersweet to be at the end of this tour. Planning was years in the making, with so many false starts and speed bumps that could have brought the whole thing to a grinding halt. No doubt many of you followed along as we boarded trains, planes, boats, vans, and buses always pushing through saying "The show must go on". It has been grueling, but unbelievably rewarding, and truly worth every long day and late night.
Tonight, we will wish Isaac a Happy Birthday! And we will say goodnight to our Aussie fans for the final time in 2022, but know we are thankful to every one of you who helped make this world tour such a smashing success. Only thing left to do now is rock out in Melbourne before we travel to New Zealand for the final concert of the the year!
Isaac, Taylor and Zac
RGB RECORD PLAYER GIVEAWAY
In celebration of RGB, Finally It's Christmas, Never Let Go, and In Color being released on vinyl, we are giving away two special edition record players. Learn how you could win HERE.
FALL EXPLORER
Member Exclusive: HNet Explorer is back! We started on October 25th and will be going for seven weeks, hosting our final Explorer of 2022. Every week we will share new Hunts, and the Hanson.net members that are able to follow the clues to the end will get a shiny new Pin for their Profile each and every week.