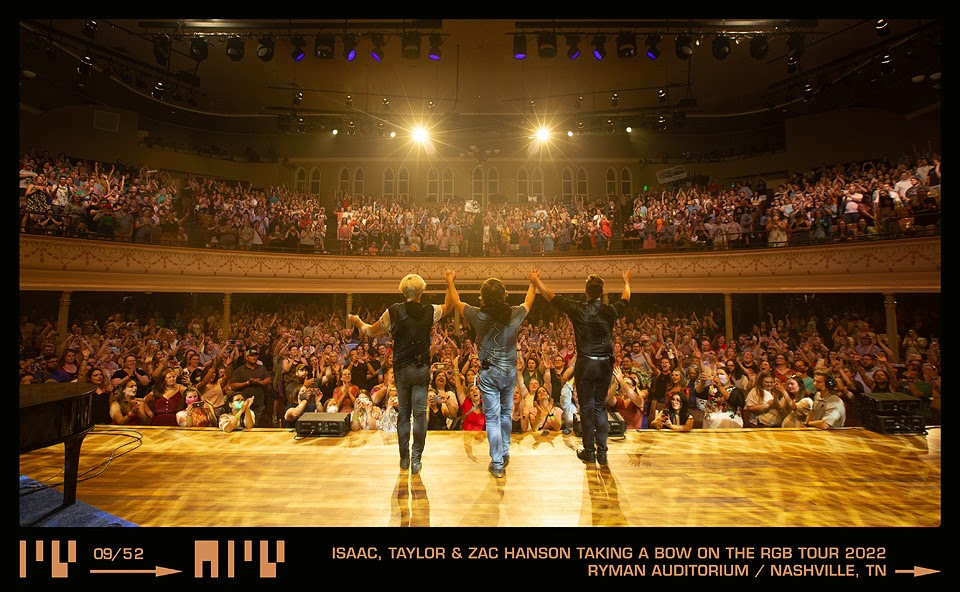 WEEKLY PIC
We have officially kicked of the the US leg of the RGB Tour and it has been amazing. No image says it better than a final bow at a packed Ryman Auditorium in Nashville. Thanks to everyone who has joined us so far. See you on the road.
MESSAGE FROM THE BAND
The weeks are full, and we are all a little tired, but that good kind of tired where at the end of the day you fall asleep with a big smile on your face. This week has seen shows in Nashville, Atlanta, Birmingham, St Petersburg and Raleigh. This part of the country is full of history for us, memories of venues we have played throughout our years on the road, the familiar and the legendary, but it is also full of great deal of our extended families and friends. Playing for a crowd is one thing, playing for your aunt… you really step up your game!
Though we are traveling all over the globe, we can only be in one city at a time, but there are ways you can join in the tour even from afar. Every week we are sharing video from the tour with Hanson.net members in the blog… think like mini Tulsa Tokyo videos. Every month we are dropping a new HANSON Time Podcast, with our next coming in just 2 weeks on August 5th. Each night we record a new Fan Club Reporter interview that is posted as part of every concert in the Archive, along with M&G photos, but nothing really compares to just being at a show in person.
Thank you to everyone who has been coming out to shows, and everyone who has already made plans to see us later in the year, or even next year at BTTI 2023. We are having a great time, and we hope it shows!
Isaac, Taylor and Zac
RED GREEN BLUE TOUR ON SALE NOW
The RED GREEN BLUE WORLD TOUR started in Europe in June and now it will bring HANSON to the US and Canada from July-September, Latin America in September and Australia & New Zealand in November. The band's first major tour since their String Theory album & tour in 2018/2019, fans will be in store for a tour which not only features the premiere of 15 songs from the new project but will also be the first tour to include live performances of 2020's Against The World as well as career spanning set lists of fan favorites.
For more information, visit: www.Hanson.net
MEMBER EXCLUSIVE TOUR MERCH
Member Exclusive: Check out the HNet Store for exclusive merch available only to fan club members including two new member exclusive RGB Tour items.