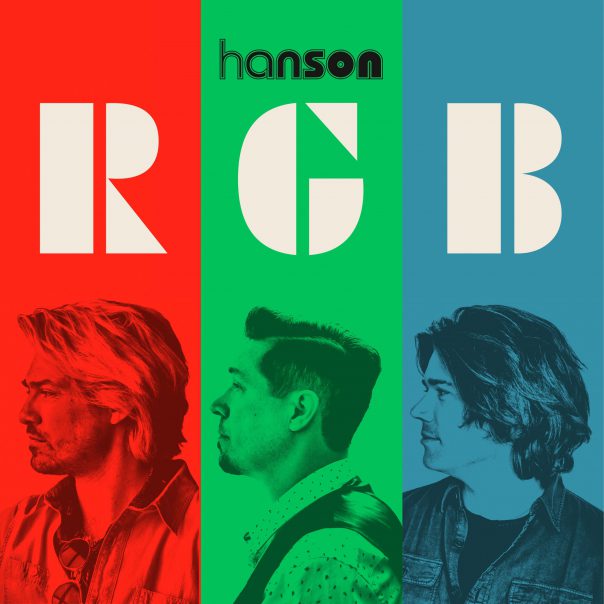 To celebrate its third decade as a band, pop-rock trio Hanson flipped the script entirely for its eight album. Red Green Blue is a cohesive release made up of three separate creative endeavors.
Each band member (and Hanson brother) took the reins to write and produce his own collection of songs; Taylor's Red, Isaac's Green and Zac's Blue. The album comes two years after the group opened up the vault for a Perennial collection. The unique new format combines the members' individual voices but still feels like a collective band effort. It's actually quite an impressive feat just what a career the band that first broke on the scene with "mmmBop" has carved for itself 30 years later.
There's even variety within each "sub-album," each spanning five or so tracks. Not one of the brothers sticks to any certain style or genre. Instead, all three opt for a blend that represents his creative touch. Taylor Hanson's Red (not to be confused with that other Taylor's Red) tends to lean more toward a rootsy Americana and country lane.
"Child At Heart" opens things up with subdued classic rock heavy on harmony. "Rambling Heart" and "Truth" lean heavier into a focused acoustic singer-songwriter vibe. The Tom Petty connection may not be entirely unfounded, as Hanson is collaborating with Jim Scott, who worked with both Petty and the Red Hot Chili Peppers. David Garza co-produced the album, who's also helmed albums by Fiona Apple and Sharon Van Etten.
"We Belong Together" builds from an energetic acoustic stomper and grows into a soaring singalong that feels uplifting and anthemic.  "Semi Hollow" wraps things up on a bluesy high note that fuses more of a Paul-Simon-meets-Grateful-Dead attitude.
For Isaac Hanson's Green, the overall mood doesn't change dramatically, but there's more of an intimate and vintage sound. The Green tracks are more vocal-forward, letting the band's harmonies carry the way over the instrumentation. "Greener Pastures" is a slick mid-tempo bop with plenty of green wordplay and some smooth bluesy guitar playing.
Acoustic ballads "Write You a Song" and "No Matter The Reason" slow things down but also focus in on the singing. "The Gift of Tears" strips things back even more for a Springsteen-esque ballad with a reverb-laden acoustic guitar and lightly fuzzy electric guitar strumming, sans percussion. The section comes to a close on a rousing note with "Cold As Ice," a funky and percussive jam with an infusion of soul. The track is a fun romp and one of the high points of the record, bringing back the Paul Simon energy while adding a little bit of Stevie Wonder for good measure.
Zac Hanson's Blue has a more contemporary sound, taking the same Americana backbone and mixing in pop, rock and alt-country. "Bad" is a slick toe-tapper that mixes some light keys to the organic sound.
The emphasis on the band's signature harmonies is still very present. Acoustic ballads "World Goes Round" and "Wake Up" are slower but don't sound as roots as the previous sections. The songs are intricate and well-crafted, showcasing the earnest songwriting. The fist-pumping "Don't Let Me Down" is probably the most rock track on the entire album, and for good reason: It features Shinedown guitarist Zach Myers.
Blue concludes on soft and airy ballad "Where I Belong," a piano-driven track that offers some of the most throwback sound on the record. Red Green Blue is experimental and fun for a band that's been getting it done for a number of years. It showcases the band members' individualities but feels like a singular work regardless of who's at the helm.