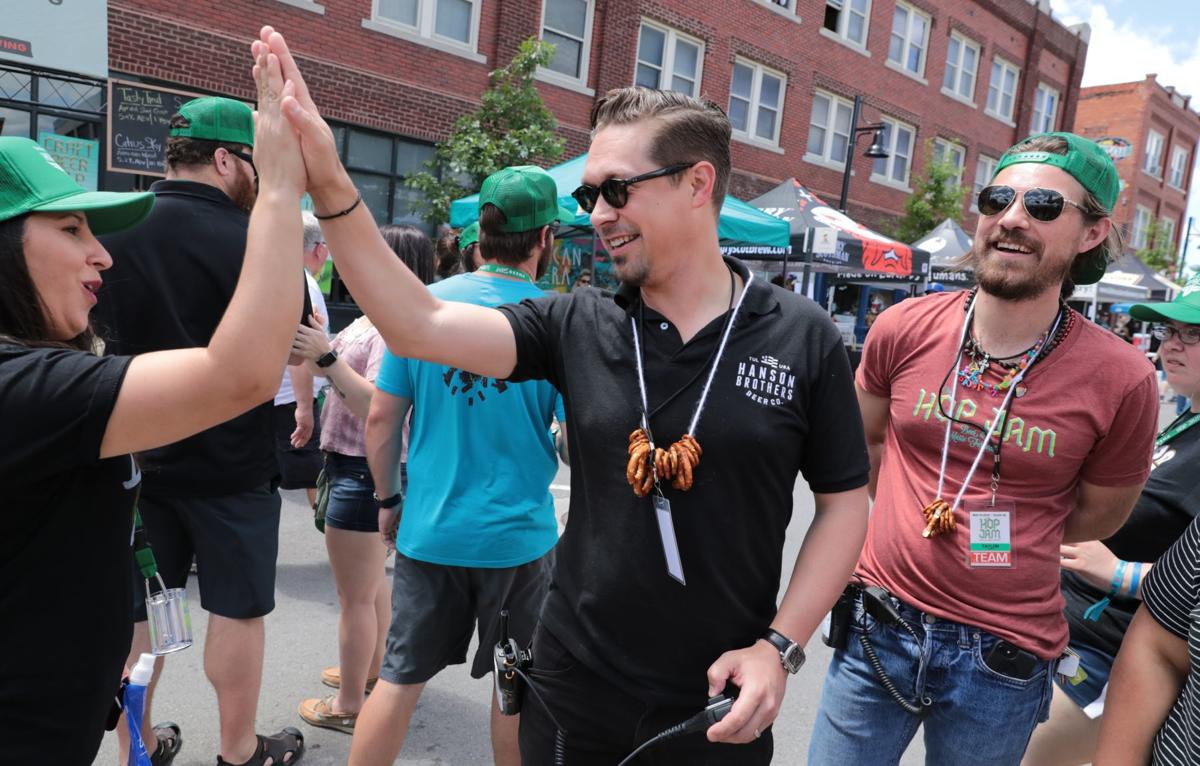 The Hop Jam, which attracts Hanson fans from all over the globe, temporarily increases Tulsa's population.
But Michelle Gaeta is evidence that Oklahoma's largest craft beer and music festival may have a more lasting impact on the population.
Founded by the Tulsa-based music group Hanson, The Hop Jam celebrated a sixth year Sunday by drawing another big crowd to Tulsa's Arts District.
Among faces in the crowd was Gaetta, who said she was born and raised in Los Angeles, but relocated to Tulsa after being introduced to the city by way of Hanson fandom and The Hop Jam.
"Last year I decided to move here just because every time I came, I stayed longer and longer," Gaeta said.
"It's just really weird because, being from California, I really didn't think I would want to move anywhere else. In California, there is this underlying stress all the time, like go, go, go. I love Tulsa because it's a big little city. In some regards, it reminds me of home, but in some regards it reminds you of like a little town in the middle of nowhere."
Coincidentally, "Middle of Nowhere" was the title of a 1997 album that went multi-platinum and put Hanson on the map. Gaeta didn't get on the bandwagon then. She came aboard in 2003 and eventually began traveling to Tulsa for Hanson Day events and The Hop Jam.
She said this about her new home: "I love there is like a big sense of community. You go to local stores and they remember your name and they remember your order. You really feel like part of something instead of just a number and I really like that."
Gaeta, while sharing her story, was seated next to Kirsten Kirsch, who traveled to Tulsa from Toronto and wore an S.E. Hinton shirt to The Hop Jam.
"I love her," Kirsch said.
Hinton is a Tulsa author whose most famous work is "The Outsiders." Meanwhile, The Hop Jam routinely brings "outsiders" (read: visitors from other states and countries) onto Hanson turf.
Ting Chen of Shanghai, China, was front and center when Joshua & The Holy Rollers performed on the Main Stage. The band features Mac Hanson, younger brother of Isaac, Taylor and Zac Hanson.
A Hanson fan for many years, Chen made her first trip to The Hop Jam. "I really like Tulsa," she said. "It's a good city."
Isaac Hanson, who was glad his brother's band was able to take part, paused for an interview while Joshua & The Holy Rollers were on stage. He said he was pleased with a "great crowd" that showed up for the beginning of the event and he knew the crowd would get bigger as the day continued. He has seen enough over the past six years to know The Hop Jam is a worthwhile venture for Hanson and Tulsa.
"Absolutely, 100 percent," he said. "Not only is it a worthwhile thing for us to be able to do, because obviously a lot of folks come out. But I think it's an important part of a thriving community, a thriving city, and I think clearly people want it to stick around and want it to be here."
Because the Hanson brothers always put boots on the ground at the festival, the event is ripe for make-my-day encounters. Allicia Nodurfth was still a little bit giddy when she was interviewed.
"I just got to hug Isaac," she said.
A Hanson fan since "MMMBop," Nodurfth traveled from Russellville, Arkansas, with her husband, Joshua, 10-year-old son Corey and her parents, Roy and Sue Riggs. Three of them wore Hanson shirts to their first Hop Jam experience, including 70-year-old Sue.
Allicia said she took her mother to a Hanson concert for her birthday in 2009. It was the first Hanson concert for both. The opening act was so good that Allicia said her mother told her there's no way Hanson could be better.
"And then they came out and blew us away," Allicia said. "I have been to probably around 50 different concerts in my life and nobody plays it like Hanson. Nobody puts on a show like Hanson."
After meeting Isaac, Allicia was asked if she had expected a celebrity encounters.
"I was hoping," she said. "I had an opportunity to get a picture with Zac and Taylor this morning. Isaac completed my collection, so I have a selfie with all of them now. I am very excited."
Said her husband (also a Hanson fan): "I'm happy she's happy."
Allicia and her family intended to get some post-Hop Jam rest and return home. Gaeta? She's already home. She's a full-fledged Tulsan now and finds something new about the city to love every day — like breakfast at Dilly Diner the morning of The Hop Jam.
Gaeta said she recently returned to California and did the "touristy thing" with friends, including a Disneyland visit.
"And, after a week, I was like, I'm ready to go home now," she said.