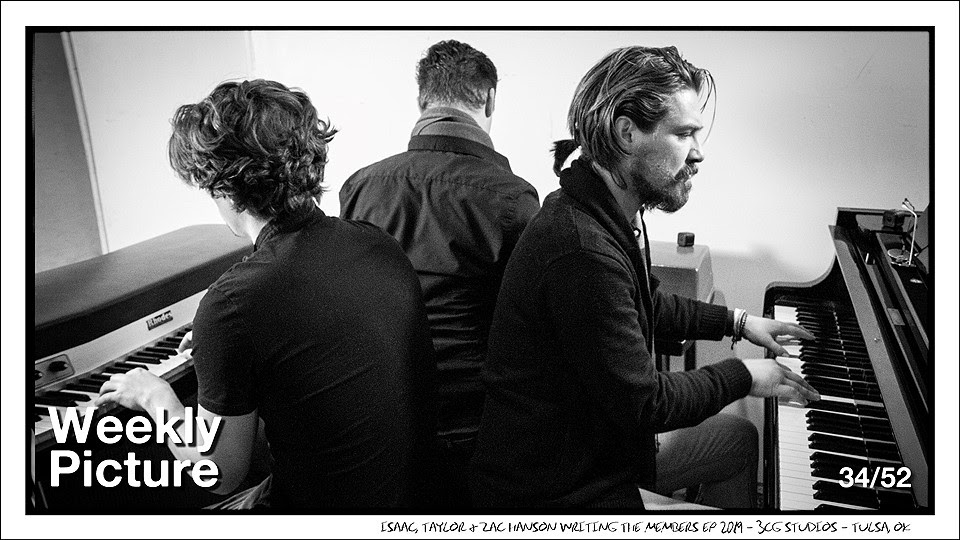 WEEKLY PIC
We all began making music learning to play piano. It is the world's greatest songwriting and arranging instrument. Why not have THREE at the same time? This week we are testing that question with new music for the 2019 Hanson.net EP.

MESSAGE FROM THE BAND
It's hard to believe we are already a couple weeks into the new year, but it does not feel official until we have begun a new project. That process begins today with the Hanson.net annual EP writing and recording. Each time we record the special EP music, it is an opportunity to unlock the creative forces and seek inspiration, and the outcome is a body of work unlike any other.

Each year the EP's give us a chance to be creative while knowing we can take risks and share that journey with members. It's always exciting to begin the process with the new ideas and the excitement of the unknown.

In addition to the musical cave dwelling, we are not far from our next adventure to Jamaica for Back To The Island 2019 which we know will be amazing (as it has been for many years). These events are another chance to share music AND experiences unlike any other and we always look forward to it.

For those fans in the UK, Europe and Australia we are excited to be bringing the String Theory concert to you. For those of you who have seen the concert, you know it's not like anything we've ever done and it's incredible to be able to perform with some of the world's leading musicians in such a different environment. We hope to see you there.

This month is full of envisioning and creating things. We hope you are feeling inspired this week and thanks for joining us on the musical ride.

Isaac, Taylor And Zac


HERE'S THE LOVE! The new Valentine's Day Collection is available in the Hanson.net Store.

STRING THEORY INTERNATIONAL TOUR 2019 String Theory is the next frontier for HANSON, telling a story of aspiration and fortitude against the odds. The music resonates with authenticity, coming from a group whose signature is never to chase trends, but instead to stay focused on their melodic artistry, establishing themselves as one of the few artists of their generation able to continually reinvent and reimagine their music, which has helped them to maintain an active global fan base over 25 years after their founding.

HANSON | STRING THEORY INTERNATIONAL TOUR 2019 Mon 11 Feb 19 Birmingham UK Symphony Hall Live with Orchestra Tue 12 Feb 19 Manchester UK Bridgewater Hall Live with Orchestra Thu 14 Feb 19 Nottingham UK Rock City **Non-Symphony Show Fri 15 Feb 19 London UK Royal Festival Hall Live with Orchestra Sun 17 Feb 19 Glasgow UK Royal Concert Hall Live with Orchestra Tue 19 Feb 19 Utrecht NL TivoliVredenburg Live with Orchestra Wed 20 Feb 19 Brussels BE Cirque Royal Live with Orchestra Wed 27 Feb 19 Melbourne AUS Palais Theatre Live with Orchestra Mon 4 Mar 19 Sydney AUS Opera House SOLD OUT Mon 5 Mar 19 Sydney AUS Opera House Live with Orchestra Wed 6 Mar 19 Canberra AUS Canberra Theatre Live with Orchestra Fri 8 Mar 19 Gold Coast AUS The Start Live with Orchestra Sat 9 Mar 19 Brisbane AUS QPAC Live with Orchestra
For more information visit www.Hanson.net

JOIN HANSON.NET! With the String Theory album and tour just around the corner, don't forget to renew your Hanson.net membership for 2019!
During The String Theory enjoy these members benefits.

• Pre-sale concert tickets
• Member lines at concerts
• Meet & Greets opportunities with the band
• Fan Club Reporter's interviews
• Exclusive videos
• Check-in at the concert to win one of a kind items

You can find your current expiration date by going to your My Account page. Not a member join today!