Because it's been a long year, and frankly we deserve something good.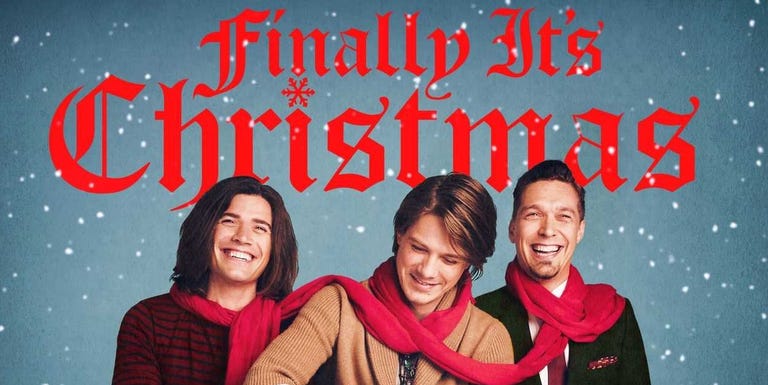 n 2017, Hanson celebrated its 25th year as a band and the 20th anniversary of its debut album, Middle of Nowhere. Even if you haven't heard any of their five subsequent studio albums (or seen one of their 14 official tours since 1997), they live on in the hearts, ears (damn you, "Mmmbop"), and Christmas CD collections of anyone who came of age in the late '90s and early '00s.
And while some bands might bristle at playing the 20-year-old hits that made them famous, the brothers have embraced that nostalgia factor and used it to their advantage. "We never avoid any of the old stuff. It's a very important part of who we are and something that we're very proud of," Isaac Hanson, the eldest of the musician brothers, tells MarieClaire.com of their latest tour. "I feel really lucky that in spite of the fact that we were very young—young musicians, young songwriters, young artists—we've managed to be very, very proud of everything we've done."
Hanson just wrapped its Middle of Everywhere tour (get it?)—which spanned the globe and featured "Mmmbop" as well as other TRL chart-toppers—and then hopped on anothermini-tour promoting their latest release, Finally It's Christmas.
They recorded the album in 2016, and despite the fact that they're two decades older (and their voices are a few octaves lower), Hanson says Finally It's Christmas is a spiritual follow-up to their two-million-selling 1997 holiday classic Snowed In.
"Some of the voices are really noticeably different—like Zac's voice is really noticeably different, my voice less so," Hanson says. "You have some of those inevitable things, but we were trying as best as we could to say to ourselves, 'If this is chapter two in a book, it's got to feel as connected to the first one as we can without feeling like we're repeating ourselves.'"
Below, Hanson takes us behind-the-scenes in a track-by-track journey through the new album. Bye Santa, no other gifts needed.
1. "Finally It's Christmas"
The title track—which the band released on their website a few years ago—is actually what inspired the album itself. "We were like, 'This is really cool. We'll put this out on the website as a special release along with some Christmas products and stuff like that, just for the fun of it,'" Isaac says. "And then when we listened back to it, we were like, 'This really feels very connected to Snowed In. It feels like it makes a lot of sense with what we did on it 20 years ago.'" YOU'RE RIGHT, HANSON, IT DOES.
2. "A Wonderful Christmas Time"
Yes, it's a cover of the Paul McCartney Christmas classic, and no, it almost didn't make it on the album. "We were still looking for a more upbeat song, something that felt familiar, but we felt like the original version was just not something that we were going to be able to put our stamp on," Isaac says.
But once the trio added a Motown drumbeat and a new chorus, it became their own. "It lent itself to some reinterpretation and we wrote a new section for it to give it even more of a lift, even more of a chorus, because the song really doesn't have a chorus. It very much feels like an original song in a certain sense because we really took a lot of liberties, but I think it doesn't betray the original version at all. I just think it's a very different version than anyone's done."