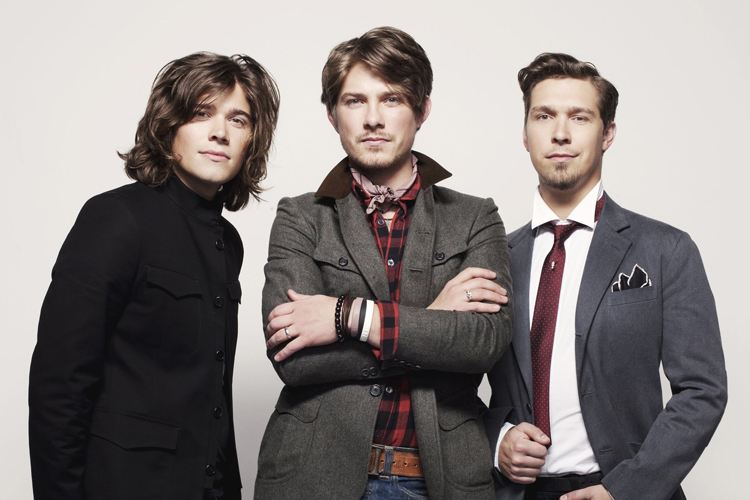 (Foto: Especial)
The nerves, and especially the excitement of seeing them for the first time in Guadalajara, were lived to the max with almost 20 fans who welcomed Hanson on tapestío soil.
The brothers' trio arrived from a commercial flight from Monterrey, where one night before they presented their Middle of everywhere world tour, which today will stop at the C3 Stage at 8pm.
Since they were seen in the arrivals hall, Isaac, Taylor and Zac were very smiling with their fans, in fact one of the staff members captured the excitement and uproar of the fans, who even traveled from the City of Mexico and Gema, who came from Gibraltar, a site in Spain, to see their idols.
The first to come out was Taylor, one of the most popular, who took selfies with the girls and signed autographs on his first album, Middle of Nowhere, which is celebrating 20 years since its release.
Behind him came Zac, the youngest of the brothers from Tulsa, Oklahoma, with a cart in which much of the luggage was transported by him, but later a person who came with the group helped him to tend his fans.
And in the end, Isaac left happy, as one of his admirers presented him with a Mexican detail, which had a charro hat and a tequila cup, which was also received by his two brothers.
The trio was accessible and signed photographs, magazines of yesteryear and records before getting into the van that took them to the hotel to rest.
In today's itinerary it is planned to test the sound in the C3 Stage, they will fulfill some commitments with winners of different competitions and offer their first show in Guadalajara, from 20 hours in the C3 Stage, where they can buy tickets. The price is 500 pesos.
Anniversary
The Hanson brothers make a tour to celebrate 25 years of career and arrive for the first time to Guadalajara
Theme
Mmmbop was his cover letter and became an entire hymn