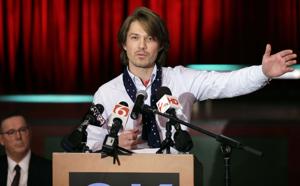 Taylor Hanson speaks during a news conference announcing the location of the Oklahoma Historical Society's Oklahoma Museum of Pop Culture, known as OKPOP, across from Cain's Ballroom. CORY YOUNG/Tulsa World
With the OKPOP Museum looking at several "good" locations in the Brady Arts District earlier this year but struggling to find the "ideal" spot, one of Tulsa's most famous musicians quietly met with organizers to suggest a new possibility — a site so seemingly perfect that it left people wondering why they hadn't thought of it before.
The project bounced around to several potential locations after the idea was broached in 2007 to build an Oklahoma Museum of Popular Culture. Officials first considered a parking lot west of the Brady Theater, then focused on property owned by the Bank of Oklahoma near the Boston Avenue pedestrian bridge, where construction would have included a large parking garage for bank employees. By last summer, OKPOP seemed destined for a site near ONEOK Field, where the Tulsa Development Authority was seeking proposals for redevelopment.
"All of those sites were good," said Bob Blackburn, the executive director of the Oklahoma Historical Society. "But all of them had drawbacks."
Taylor Hanson had another idea. Across the street from the landmark Cain's Ballroom, at 423 N. Main St., sat a vacant lot with high visibility from Interstate 244 — all the better for helping tourists find the museum. And its proximity to Cain's — "the home of Bob Wills" and one of the most famous music venues in the state — already made the location what Blackburn described Thursday as "sacred ground for artists and the creative community" in Oklahoma.
"It's the perfect location," he said. "We had other possibilities, but this was the right one."
If possible, "perfect" got even better when David Sharp, one of the largest property owners in downtown Tulsa, agreed to donate the land — valued at roughly $1 million. Taking up a quarter of a city block, the land currently provides paid parking for Cain's.
Expected to break ground in early 2018 and open by the end of 2019, the 40,000-square-foot museum hopes to become one of the most popular tourist attractions in Oklahoma by featuring exhibits on some of the biggest stars in the country, including Garth Brooks, Reba McEntire, Vince Gill, Carrie Underwood and Kristin Chenoweth. And OKPOP will include underground parking, with fees helping to fund the museum's daily operations, officials said. Design and construction will be funded by $25 million in state bonds, while daily operations will be offset by parking fees in an underground garage that will serve the museum and other nearby attractions in the Brady Arts District, officials said.
Officials announced Thursday that the museum will hold the personal collection of Leon Russell, who helped create and popularize the mix of rockabilly and country music known as the Tulsa Sound. Russell died in November, but with a grant from the George Kaiser Family Foundation, OKPOP was already negotiating to buy his collection, including his most recent piano as well as more than 2,500 master recordings.
"We're building a place where creativity can come home" to Oklahoma, said Taylor Hanson, a Tulsa-bred musician who — along with brothers Isaac and Zac — has sold more than 16 million records worldwide.
Mayor G.T. Bynum hopes the museum will inspire a new generation of Oklahoma musicians and artists.
"They will do great things," Bynum said, "because they came to this museum and realized what is possible."
About OKPOP
What: The museum is a place to "collect, preserve and share" Oklahoma's cultural assets. Emphasis will be placed on how those assets have influenced pop culture as a whole. Collections include artifacts, photographs, manuscripts, archival material, film, video and interviews.
Construction will also include building a 100-space parking garage to go beneath the museum and serve nearby businesses.
Where: 422 N. Main St., directly across the street from Cain's Ballroom in Tulsa's Brady Arts District
Timeline: Plans for the museum were first announced in 2007. The Oklahoma Legislature approved the museum's $25 million bond issue in May 2015. Construction will begin in early 2018. Museum will likely open by the end of 2019.